So you're planning to sell your Lakeland Florida house FSBO and save yourself a ton of money. Before you move ahead with your plans, stop for a moment and consider the actual costs of selling your house for sale by the owner. 
After you read this blog, you will realize that there are a lot more costs to selling your home than just the real estate commission. At the end of the blog, we'll share one practical way you can sell your house while virtually eliminating every selling expense. 
It is unlikely you'll save money on the full commission
Most sellers who try to sell their homes on their own envision themselves saving a bundle of money on the real estate commission. Since commissions can add up to 6% or more of the sales price of the home, it is tempting to cut out the real estate agents and pocket the savings. 
The reality is very different. Since more than 90% of homes sell through an agent, chances are the buyer that shows interest in your home is already working with an agent or will prefer to be represented by an agent in the purchase of your home. 
Since commissions are usually split equally between a listing agent and a selling agent, the most you will probably be able to save is the 3% listing commission.  
Marketing expenses 
When you list your home with an agent, he or she is responsible for marketing your home. When you sell for sale by owner, however, you're responsible for all the marketing expenses. Some common marketing expenses include:
Placing a for sale sign on the property

Getting professional pictures of your property 

Preparing property flyers and brochures

Advertising your home on for sale by owner websites 

Coordinating signage and advertisement for open houses 
When you sell a house for sale by owner, don't forget to factor in marketing expenses to get your home sold.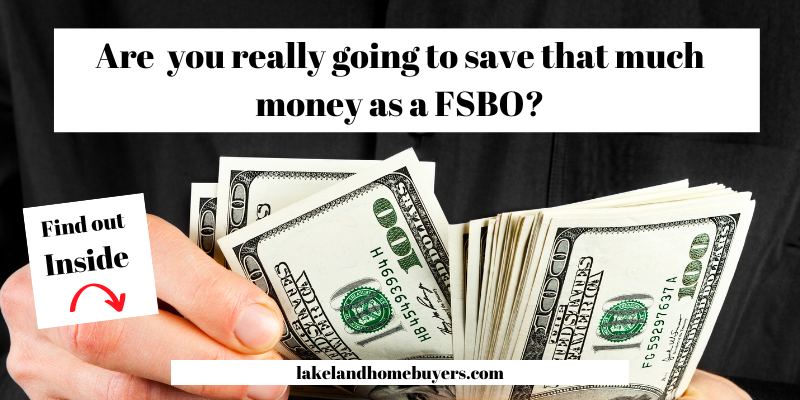 Home Repairs
In order to attract buyers and get the highest offer possible, you will have to get your home ready for showings. That means you will have to clean, declutter and make repairs to your home. 
Depending on the condition of your home, repairs could add up to thousands of dollars and several weeks or months of time. 
Home Inspection  
Even after you get your home ready to go to the market, it is not uncommon for a home inspector to find some problems with your house. Be prepared to make additional repairs or give credit to your buyers. 
Closing Costs
Don't forget to factor anywhere between 1% and 3% of your home's sales price in closing costs. Your closing costs include such things as transfer tax, attorney's fees, recording fees, and costs related to paying off your mortgage. 
As you can see, even if you try to sell your Lakeland home on your own, there are a lot of costs you will have to pay in order to get your home sold. 
Fortunately, there is one way you can sell your Lakeland house quickly without headaches and avoid all the costs above. Call Lakeland Home Buyers at 863-372-8937 for a top-dollar cash offer on your home. 
You will usually get a cash offer within 24 hours and after signing a basic easy-to-understand sales contract and close quickly. It's that simple. You won't have to spend a penny on home repairs, marketing, buyer's credits, or commissions, and we'll even pay for your closing costs. 
We guarantee you a fast and hassle-free sale. 
Count on us to understand your needs, provide solutions to your problems, and deliver exceptional service.