Before you put your home on the market stop for a moment and ask yourself these three questions:
How much is my home worth?

What repairs should I make in order to make my house more sellable?

How should I sell my house? 
The answers to these questions are vital. In this blog we'll help you answer these questions so you can increase the odds that your home will sell more quickly, at a higher price and with less effort. Let's start off by answering the first question. 
How much is my Lakeland home worth?
The most important step you can take by far to assure a successful sale is to find out how much your home is worth and price it accordingly. 
The easiest and quickest way to get an idea of the value of your home is to visit a couple of the online real estate website portals such as eppraisal.com, realtor.com, redfin.com or zillow.com. 
They all use an Automated Valuation Model, also known as AVM, to instantly give you a value for your home. The AVM estimate is based on the use of algorithms and public data of the sale of comparable homes in your market. 
If you find that you have enough equity in your home and you can accomplish your goals by selling your house, then you can move on to the next step and get a more precise value of your home by getting the opinion of a real estate agent. 
Here is a good time to advise you not to overprice your home. An overpriced home is at a disadvantage right from the start! Since buyers set an upper limit to how much they are willing to pay for a home, precisely those buyers that would be the most likely buyers for your house will cross your home off their list. 
On the other hand, buyers that are able to pay for a more expensive home will walk away unimpressed with your house when they compare it to correctly priced homes that are competing for their attention. 
If your home sits on the market for a long time, buyers may begin to think that there may be something inherently wrong with your property. Once your home gets stigmatized, it can be very difficult to sell your house, even if you lower the price. 
Contact a real estate agent 
An AVM estimate will give you an idea of the value of your home but does not take into account specific improvements or attributes that can justify a higher price for your home.  
There is no one that will know your market better than a local real estate agent. Invite several agents to view your house and ask them to prepare a free Comparative Market Analysis (CMA) for your home. 
A CMA is a report that takes into account comparable homes that are currently on the market, are under contract and have sold within the past six months in order to establish a recommended listing price and estimate of value for your home. 
In case you disagree with the agent's opinion of price or find that there is a large disparity in the opinion of price, then you could get an appraisal on your property. 
Order an appraisal  
An appraisal by a Florida licensed real estate appraiser will cost you between $500 and $1000 depending on the size of your home. Appraisers have the specialization and experience to render an opinion of the market value for your home.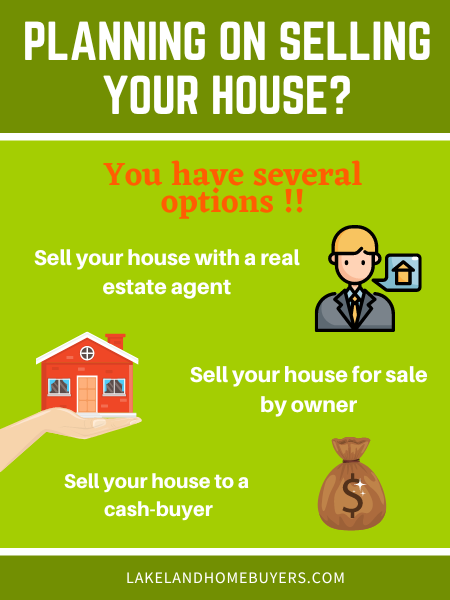 Similar to agents, an appraiser will use comparable sales to arrive at a value for your property. An appraiser unlike a real estate agent however must follow strict licensing and industry guidelines in rendering their opinion of value.  
An appraisal can be worth every dollar it costs. It can serve as a powerful tool in justifying your asking price when negotiating the sale of your house with a prospective buyer. 
What repairs should I make in order to make my Lakeland, Florida house more sellable?
Once you've established the value of your home and have decided on the asking price, your next step should be to make your house as attractive as possible in order to get the best price. 
It's important not to go overboard. One great place to start is by creating an attractive curb appeal. You can start by cleaning and landscaping your front yard. Adding flowers and pruning or replacing bushes and shrubs can do wonders to help create a positive first impression.
Spend a weekend or two cleaning and decluttering your home. Don't forget that a fresh coat of interior paint and new flooring can do wonders to make your home more attractive. 
Would you like other inexpensive ideas to improve your home? Read bankrates.com 10 Cheap Fixes to Boost the Value of Your Home.
How should I sell my Lakeland house?
Most sellers don't give this question a second thought. They automatically plan on selling their house with the help of a real estate agent. For most sellers, this is the best way to sell their home. 
A professional and experienced agent will help you with all the steps in selling your home. They will suggest an asking price, recommend repairs, assist you with staging, market your home, help you negotiate with buyers and coordinate all the requirements to get to a closing. 
Sell your Lakeland house for sale by owner 
On the outside chance that you already have a buyer before you put your house on the market, then you should consider selling your house on your own. 
With the guidance of an attorney and a title company, you should be able to sell your house relatively easily and save thousands of dollars on the real estate commission. 
Sell your Lakeland house to a professional cash-buyer 
If you need to sell your home quickly because of a job transfer, financial problem, illness or divorce, then you should consider selling your home to a professional home buyer. 
Real estate agents can promise to do their best in selling your home, but they cannot guarantee you that they will find you a buyer quickly nor can they guarantee you that the buyer will qualify for a mortgage. 
Selling your house to a cash buyer is simple. You will usually get an offer within 24 hours and after signing a basic easy to understand sales contract you can close in as fast as 7 days. 
You can sell your home as-is, without having to list your home with an agent, show your house to a parade of buyers or deal with the uncertainty of your buyer getting a mortgage approval. 
If you want to sell your house without any fuss or complications, call Lakeland Home Buyers at 863-372-8937. We'll guide you through the entire sales process, to make the sale of your home as smooth as possible.