It is wonderful news when you learn that you've received an inheritance until you find out you've inherited an old house. An old Lakeland house could be full of problems that may totally catch you by surprise. Before you pull out your tool box or call a contractor read the advice below to guide you in deciding what to do with your home.
Make sure your Lakeland,Florida house is insured 
Contact your insurance company and find out the status of your insurance coverage. Be aware that if you've inherited an old house there is the chance that it has failed an insurance inspection prior to your inheritance. You may be running the risk that your homeowner's insurance may be canceled.
Even if you do have insurance, make sure you read the fine print on your policy. Most likely your current policy will require that the home remains occupied. If you believe that your home will be vacant for more than 30 days then purchase an unoccupied and vacant home insurance policy. 
Keep in mind that insurance claims on a house that has been empty for more than 30 days will be denied.
Weigh your alternatives – Fix Your House  
Once you have ruled out that there are no pressing issues, you need to weigh the different alternatives available to you. If you have the time and money to make major repairs and renovations, you could fix your house and either rent it out, sell it or move into it.
Keep in mind however that it is a challenge even for experienced home investors to estimate the cost of repairs accurately and to complete repairs on schedule. Unless you have experience rehabbing properties, you will most likely run into expensive cost overruns and delays.
Weigh your alternatives – Sell your house as-is
Another option is to sell your house as-is. Unfortunately, it's almost impossible to sell a house that needs major repairs the traditional way with a real estate agent.
Most home buyers look for houses that are in move in condition. Very few are willing to take the risk to buy an old house that may turn out to be a money pit. Moreover, it is unlikely a bank will extend a mortgage for a home that is old and needs a lot of renovations and repairs. 
Nonetheless, if you still want to try selling your house as-is. Follow these 4 recommendations: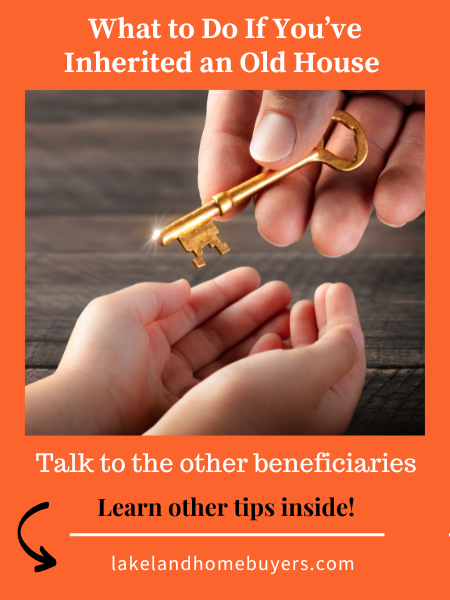 Price your house right – If you want to sell your house quickly and at the best price, you must price your house correctly right from the start. You see by doing so, you'll get the attention of serious buyers that are actively looking for a home with the features and at the price range that your home is being offered at. 
To learn how to price your house correctly read the following article Sell Your Home Fast at Top Price–Expert Advice  
2. Highlight your home's most appealing features – Market your house based on its best features. Don't be afraid if your house needs repairs or is not located in the most desirable area. It may have a large yard, be close to schools, a park or downtown. 
If you can't think of a specific feature then highlight the fact that your home is a great opportunity for someone who wants to make upgrades over time and build equity along the way.
3. Make minor improvements – Forget major repairs. Make minor improvements, clean your yard and home and declutter it throughout.   
A viable alternative is to sell your Lakeland, Florida house as-is" to Your Company Name.
You can get the peace of mind of selling your home fast without having to deal with unscrupulous building contractors and the headaches of renovating a house. 
We will not ask you to clean, paint, remodel, declutter, organize, or repair anything.
We are professional cash home buyers. We'll buy your Lakeland, Florida house in just one day and close in as fast as 7 days. This way you'll eliminate the need to hire an agent, pay a hefty real estate commission, and put up with the uncertainty of finding a buyer.   
Call Lakeland Home Buyers today at 863-372-8937 to get a top-dollar offer. 
Count on us to understand your needs, help you get out of a difficult circumstance or problem property, and provide you with exceptional service. 
For a visual interpretation of What to Do If You've Inherited an Old House see the infographic below.