There are few things in life that give you as much satisfaction as owning your own home. It is especially sweet when that home is full of memories of one's own children and special moments shared with friends and family.
There comes a time, however, when it becomes increasingly difficult to enjoy your home. Below, we'll point out 5 signs that it is time to downsize your home.
Most of the rooms in your Lakeland house are unused
There may have been a time when every bedroom in your house was occupied. You shared your favorite meals in the formal dining room and entertained guests in the late hours of the night in your living room. 
Now you find that you rarely enter some rooms in your house and may only use the formal dining room or living room once or twice a year. 
It becomes increasingly impractical to clean, vacuum, and dust rooms that you never use and spend money heating them in the winter and cooling them in the summer. 
Keeping your Lakeland house has turned into a chore 
It's exciting to take on a new project in your house. You can get a real sense of joy from painting and decorating, remodeling your kitchen, or taking on an exterior project such as a new deck or garden. 
You may find, however, that at this stage of your life, maintaining your home, mowing your lawn, or pruning your garden has become more of a chore that you avoid at all costs.
It's becoming more difficult to get around the house
As we get older, it is natural that it becomes more difficult for us to get around. But for some, it can be downright painful. It can be uncomfortable to climb up steps or clean a large house. 
You may even find that there are sections of your house, such as your attic, basement, or garage, that you have sealed off completely.  
Taxes and HOA dues are taking a big bite out of retirement income 
You may find that the amount you are paying in taxes or Home Owners Association dues represents an exorbitant percentage of your retirement income. 
As medical expenses increase, it can make better sense to reduce your home's expenses.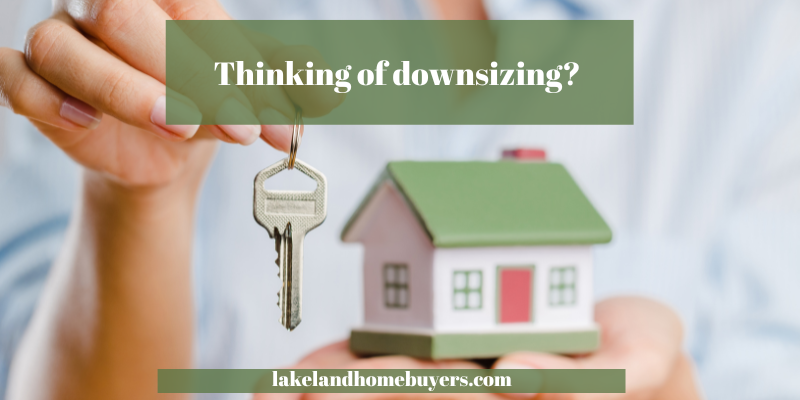 Your Lakeland home is slowly deteriorating  
A home needs constant maintenance. Unfortunately, as we grow older, it becomes more difficult to keep up with all the maintenance and repair issues that a home requires. 
Senior homeowners may fail to inspect their homes on a continuous basis and make timely repairs. Neglected minor issues can cause serious structural problems over time. 
If any of these signs feel familiar to you, then it may be time to consider selling your home and moving into a smaller, more manageable residence.
If you have been putting off downsizing your house because of the headaches and inconvenience of selling your home the traditional way with an agent, you can reach out to a professional home investor instead.  
You can sell your home as-is, without having to list your home with an agent, show your house to a parade of buyers or deal with the uncertainty of your buyer getting a mortgage approval. 
If you want to sell your house without any fuss or complications, call Lakeland Home Buyers at 863-372-8937. 
We guarantee you an easy and hassle-free sale. The process is simple. You will usually get a cash offer within 24 hours and after signing a basic easy-to-understand sales contract and close quickly.
Count on us to understand your needs, provide solutions to your problems, and deliver exceptional service.