Have you ever wondered how Lakeland, Florida companies that buy houses for cash work? Maybe you're struggling to sell your Lakeland, Florida home and are thinking to sell your home for cash. 
Below we'll explain the inside secrets to how companies that advertise we buy homes for cash work.
The secret to how Lakeland, Florida companies that buy houses for cash work; they follow the 70% After Repair Value (ARV) formula  
Practically every real estate investor or cash buyer follows the industry norm of the 70% ARV formula. It is a rule of thumb that calculates the maximum price an investor should bid for your home.
In order for a buyer to arrive at an offer price for your home, he will first calculate all the repair costs necessary to sell the home. He will then estimate the future value of your home after all the repairs have been completed.  
An investor will pay a maximum of 70% of the estimated future value of your home once it has been renovated, minus the repair costs.
So, if your home needs $25,000 in repairs and the investor estimates that the home's ARV is $150,000 then the buyer will offer a maximum of:
($150,000 * 70%) minus $25,000 = $80,000
The difference between the home's ARV and the offer price assures the buyer that there will be enough margin to cover:
∙       Repairs
∙       Closing costs to buy the home
∙       Closing costs to sell the home
∙       Holding costs such as maintenance, taxes, HOA dues, utilities and 
        insurance
∙       Percentage for unexpected costs
∙       Commission to a selling broker 
∙       Profit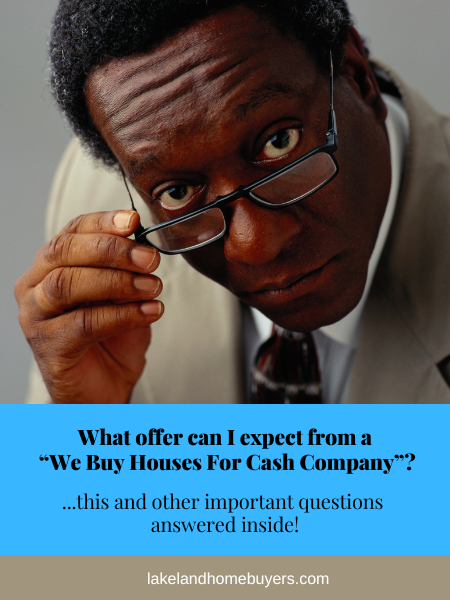 Cash buyers expect a discount of market value for the convenience of providing a fast as-is sale. This discount assures a cash investor he will make a reasonable profit for his services.
Contrary to the opinion of some members of the real estate industry, we-buy-houses-for-cash-companies are not out to steal a home from unsuspecting and uninformed sellers. They provide a valuable service for many sellers and like any other business rely on referrals and positive testimonials to sustain and grow their business.  
Selling your Milwaukee, Wisconsin home to a company that buys houses for cash isn't for every seller
If your home is in great condition, you're not under financial stress and have plenty of time to find a buyer, then selling your home through a real estate agent is your best choice. 
As long as the previous conditions hold true and as long as you are willing to invest additional money for repairs that arise from home inspections, home appraisal and final walk through inspection, you will get the highest price for your home.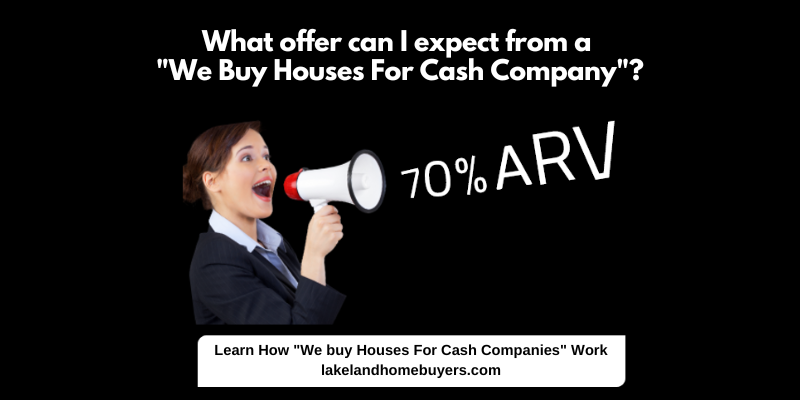 When can selling your
Lakeland, Florida
 home to a company that buys houses for cash, be your best choice
A "we buy houses for cash company" is the best alternative for homeowners who want to sell their home as-is, without making any repairs. You can rid yourself of a problem property quickly and easily by working with a cash buyer. Cash investors buy homes in any condition, including homes that have been fire damaged, have foundation problems or have been issued code violations. 
Likewise, we-buy-houses-for-cash-buyers provide a valuable service for homeowners who must sell their home fast. Since there is no need for a mortgage or inspections, cash buyers can close quickly on a home. 
Some common reasons you may want to work with a "we buy houses for cash" company include:
Death of a loved one  

Divorce

Lost job

Bankruptcy

Judgments or liens 

Title Issues

Vacant property

Problem tenants

City violations or demolition order 

Structural issues 

Ugly House 

Bad neighborhood

Expensive repairs

Foreclosure avoidance 

Job transfer

Property in probate 

Serious illness

Downsizing

Inheriting property that you cannot keep

Need for cash fast to pay bills 

Trouble Selling

Condemned 

Hoarders

Fire or flood damage

Disability 

Liquidating assets

Bad Mortgage

Medical Bills
How do I sell my Lakeland, Florida house to "We Buy Houses For Cash Company"?
Below, we share an easy 4 step process to sell your house to Lakeland Home Buyers . 
Contact us 
Call us at 863-372-8937  to schedule a confidential, no obligation meeting. We will ask you some basic questions to get to know you and your property.  
Free in-home consultation
We will meet you at your house at your convenience. This is your opportunity to pick our brain and ask us as many questions as you wish. We will carefully listen to you and analyze your particular circumstance. We will then inspect your home and gather all the important information about your house to prepare the best possible offer. 
Sell your house for top dollar in just one day 
We will present you with a written no-obligation cash offer at our first consultation. Our offer will be clear, in easy-to-understand terms. Depending on your particular circumstance, we may present you some other creative financing solution. In any case we will never pressure you into selling your house.
Get your money
Close on your house in as fast or at your earliest convenience and get a certified check or wire transfer the same day of your closing. The entire sales process is easy and the funds are guaranteed. 
Call Lakeland Home Buyers sell your house for cash  
You don't need to worry about a thing. We are distressed real estate experts with years of experience helping sellers who are unable to sell their house the traditional way.
We'll guide you through the entire sales process, to make the sale as smooth and worry-free as possible. There are no fees or commissions for our service. We will not charge you a penny and will even pay for your closing costs.
Call Lakeland Home Buyers  today at 863-372-8937 and we'll buy your house for cash! Sell your home quickly and get your money right away.
Count on us to understand your needs, provide solutions to your problems and deliver exceptional service.
Here's a visual presentation of what you just read? Look at the Learn How Companies That Buy Houses for Cash Work Infographic below.