A home not only provides shelter but is one of the soundest investments you can make. The benefits include appreciation, tax deductions, and a tangible legacy that you can leave to your family. 
One drawback, however, real estate cannot be easily converted into cash like stocks, bonds, or treasury bills. Converting the value of your home to cash through a sale can take some time.
In fact, real estate is one of the most illiquid investments. It cannot be easily sold or exchanged for cash without a loss in value.
Despite this, it doesn't have to take a long time to sell your house if you follow some proven tips.
Below we share with you 5 ways to sell your Lakeland house fast in 5 days.
Of course, when we talk about selling in 5 days, we mean getting your house under contract within 5 days. It can take you several additional weeks to get to the settlement table. 
1. Hire the top agent in your market
Find the top-producing local agent. The top agents know your market better than anyone else and may be able to get your home under contract in a matter of days. 
At any given time, they may be working with several active buyers that are looking for a home in your area.
More importantly, if you need to sell your home fast your agent will steer you away from common delays, assist you with negotiating and push the sales process along to close as quickly as possible.
Ask your friends or neighbors for a recommendation of the top local real estate agent they know or visit sites such as toprankedagents.com, zillow.com, or effectiveagents.com to find the best local agents in your market.
Once you list your house, go all in on your agent's marketing efforts. Make your house available for open houses, realtor caravans, and realtor open houses.
2. Create an auction effect 
One of the most effective ways to sell your house fast and at the highest price is by employing power marketing. 
Power marketing consists of using desire, social proof, and competition to create an auction effect that drives your home's price higher and can help you sell your house in as fast as 5 days. 
You are probably asking. How exactly do I employ power marketing?
The answer. By tapping in on human nature. 
We know people desire things that other people want. So have your Realtor schedule and heavily advertise an open house for only one day and for only a few hours. 
Make sure he invites other realtors, buyers, and neighbors. 
The idea is for potential buyers to see that there are a lot of people interested in the home. This provides social proof that the home must be a good buy if so many people are interested in it. 
It also created a sense of competition. They will immediately feel that if they do not commit quickly to making a reasonable offer, they may lose out on the opportunity to purchase the home. 
3. Offer creative financing
Creative seller financing can be a very powerful tool to sell your house fast. 
It increases the likelihood that your home will sell quickly by helping the buyers in the following ways: 

Can be used if a buyer doesn't qualify for traditional financing because of employment, bankruptcy, or foreclosure.

Reduces closing costs

Avoids strict underwriting guidelines 

Makes the purchase process easier 
There are several creative financing options you could offer. 
1. Take Back a Mortgage–You could require the buyer to give you a 10% or 20% deposit and finance the balance for the buyers. This way you can receive a steady flow of money (principal + interest) every month and the balance of the mortgage at the end of an agreed-upon date. 
2. Offer a second mortgage–This is similar to taking back a mortgage. The main difference is that your mortgage would be in a second position, usually after a first mortgage given by a bank or mortgage company. 
3. Land contract A land contract is a legal agreement for a seller-financed purchase. The buyer makes monthly or periodic payments to the property owner until the sale price is paid in full. Land contracts don't pass the title to the buyer until the final payment is made. Instead, the buyer gets "equitable title," a temporarily shared ownership. 
4. Lease option. In a lease option, the seller leases a property to a buyer for a period with an option to buy it in the future at a predetermined price. 
Lease options usually require the buyer to put up an up-front fee, which is forfeited if the buyer does not go through with the purchase within an agreed-upon time and terms. However, if the buyer opts to purchase the home, the upfront fee and, in some cases, a portion of the rental payments are credited towards the purchase of the home.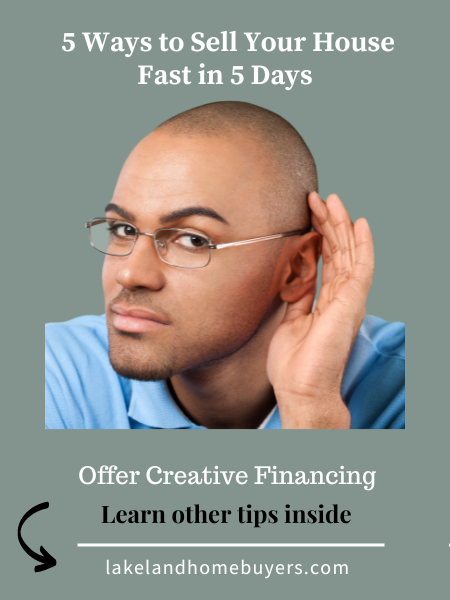 4. Go off-market 
If you believe that your home is better suited for an investor rather than a homeowner, then you can try selling it off-market. 
There are many real estate websites where you can sell your home directly to fix and flippers, wholesalers, and buy-and-hold investors. 
You can market your home for free by posting the sale of your home on real estate investor Facebook Groups and Craigslist or pay a nominal fee and market your home directly to investors on the following websites: 
5. Consider "we buy homes for cash" companies
The only sure way to sell and close your Lakeland house fast, in a matter of days, is by selling to a "we buy homes for cash" company.
 "We buy homes for cash" companies have the experience and capital to purchase your home regardless of its condition or location. What's more, they can guarantee you a fast and stress-free house sale by:
Purchasing your home as-is, in its present condition, no matter how much work is required.

Helping you avoid the need to deal with home inspections, appraisals, and mortgage approvals.

Eliminating buyer showings, open houses, or realtor caravans.
If you prefer to sell your house to a "we buy homes for cash" company, then give Lakeland Home Buyers a call. We are local professional house buyers.
We buy houses for cash throughout the Lakeland, Florida Area regardless of the home's condition or your personal situation. 
If you want an easy, secure, and hassle-free sale without the need to fix, stage and market your home, call us at 863-372-8937.
Additional resources on 5 Ways to Sell Your Lakeland, House Fast in 5 Days.