When it comes time to sell a Lakeland house that needs repairs, one question you may ask yourself is, Should I fix my house or sell as-is? Below we share some important points to consider before fixing your house. They will help you make the right decision and help you avoid making costly mistakes. 
#1 – Should I fix my Lakeland house or sell it as is? Calculate your return on investment.
The most important step before making any home improvements is to calculate the return on your investment. In other words, estimate how much the value of your home will increase with each dollar spent on the repairs. 
Ask a local real estate agent to inspect your home. According to the local buyer's demands and current market conditions, they can recommend what to fix up when selling a house. 
One of the best places to invest your money is in the kitchen and bathroom. According to the National Association of Realtors (NAR), kitchen remodeling offers the most bang for your buck. Minor kitchen remodeling offers, on average, a 79.3% percent return, while mid-range bathroom remodels will return 65% of the money invested. 
Check out the latest Cost-Vs-Value Report from Remodeling Magazine. The Cost-Vs-Value Report breaks down the cost and returns on investment of the 21 most popular remodeling projects. The best part of this report is that you can zoom down to the region or even the city. It includes the average costs of 149 markets and the return on the resale of your house in 100 real estate markets. 
Regardless of the improvements, most repairs will not give you a return on investment equal to the amount you spend. Even worse, you could wind up losing quite a bit of money by making home improvements that are not in line with comparable homes in your neighborhood. 
#2 – Should I fix my Lakeland house or sell it as is? Decide if you want to take on the role of a construction project manager.
Unless you have experience fixing houses or are a handyman, your best bet is to hire a professional contractor. 
Before you do so, ask yourself if you want to take on the role of a project manager. You'll have to approve contracts, coordinate the work activity between the different contractors, schedule permit inspections with your local municipality and put up with the overall stress of keeping everyone on schedule.
If you decide to move ahead. Be very careful when you hire a contractor. It's important to interview several contractors and ask for referrals from each one. Also, since repair estimates can vary greatly from one contractor to the next, make sure you get at least two repair estimates. This alone could save you thousands of dollars. 
Keep in mind, some contractors accept any work they get, even if they know they cannot complete your project on time. They postpone the start of your repairs or drag out the repairs well beyond the promised completion date. 
Other contractors will use your money to finish projects they've begun and delay your work until they receive money from new clients. The most scrupulous contractors will ask you for a partial payment in advance to buy materials and then walk off with your money.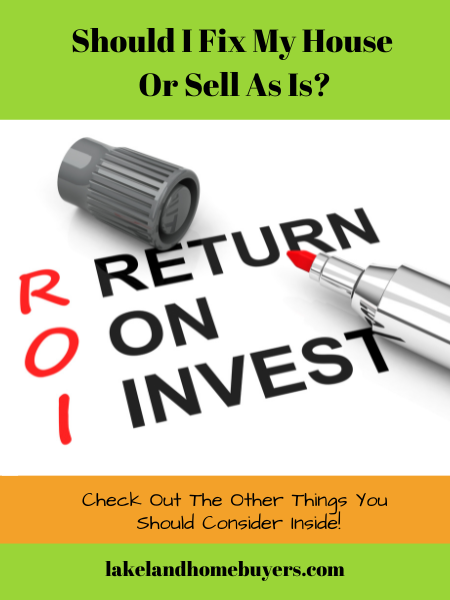 #3 – Should I fix my Lakeland house or sell it as is? Assess your schedule.
Before you make the repairs yourself or hire a contractor, assess if in addition to your job and family obligations you have the time to oversee your home repairs properly. 
There is nothing worse than unfinished repair projects. Buyers are unlikely to recognize your time and money. Ultimately, partially finished repairs will make it more difficult to sell your home and in the long run, cost you more money.
Sell your Lakeland, Florida "as is" to Lakeland Home Buyers
If you lack the experience, time, or money, it may be best to discount the cost of the repairs and sell your Lakeland home as-is to a cash home buyer like Lakeland Home Buyers. 
We are home-buying experts with many years of experience buying homes in all conditions. Since we buy homes for cash, you can forget about home appraisals, home inspections, and mortgage approvals. We'll make the entire sales process easy and guarantee you smooth, hassle-free closing. 
Sell your house to us in just one day and close in as fast as 7 days. This way, you'll eliminate the need to hire an agent, pay a hefty real estate commission, and put up with the uncertainty of finding a buyer.  
Selling a house in poor condition does not have to be difficult. Call Lakeland Home Buyers at 817-900-8035 to get a top-dollar cash offer today. Count on us to understand your needs, provide solutions to your problems, and deliver exceptional service.