We all know there is no way to ignore a bad smell, it's always the first thing you notice when you walk into a house. The old house smell is distinctively musty, but no matter how strong the smell is, there is always a way to get rid of it. Below, we are going to tell you expert advice to get rid of that old house smell!
The principal causes of musty-smelling houses are poor ventilation, high humidity, and darkness. The smell comes from the stale humidity that is trapped inside your home. These are the best conditions for mold to grow, so if none of our tips help with your problem, we recommend you have professionals come in to inspect your home.
–

Dry out of your city, house
Before you do anything else, you should dry out of your home. This is a sure way to reduce the smell or even completely get rid of it! Our first recommendation is to open your windows. This will circulate the air in your home and push all the stale air out.
Make sure while you're doing this you're also pulling back those curtains and letting the sun in. The sun is your best defense against mold and mildew because the heat will naturally dry your home.
Now there are some homes that receive little sun and/or don't receive that much ventilation. If that sounds like your house, don't worry, not all hope is lost. You can buy a dehumidifier. Dehumidifiers will take out the excess moisture from the air. You should put it in the areas of your home that don't receive proper ventilation.
–

Check if you have any leaky pipes
Here, we all have to admit that we have a bad habit of never checking our pipes. We believe that it is better not to touch what we don't understand. This can lead to leaks not being discovered for a long period.
So, to start your search, look under all your sinks and see if you have any leaky pipes. Sometimes we have so many cleaning supplies and sponges under our sink that unless you really declutter everything, you would never discover if you have a problem.
Now if there are no leaks in sight, then the next culprit could be your dishwasher or your washing machine. The reason why it's leaking can be many, but definitely check it out!
Now the worst possibility is that you have structural problems, such as a leaky roof or foundation issue.
If you find a damp area on your walls and you have no idea where it could have possibly come from, then most probably your ceiling is leaking. This problem can be simple and solvable if you call a specialist to take a look at your home.  
–

Check your air ducts
One of the most common areas for mold to grow is in your HVAC's air ducts, condensate pan, condensate tube, and in other moist parts of your HVAC equipment.
We recommend that you check your HVAC system and while you are at it check your air conditioner. Mold can grow in an air conditioner, especially if it is not in use.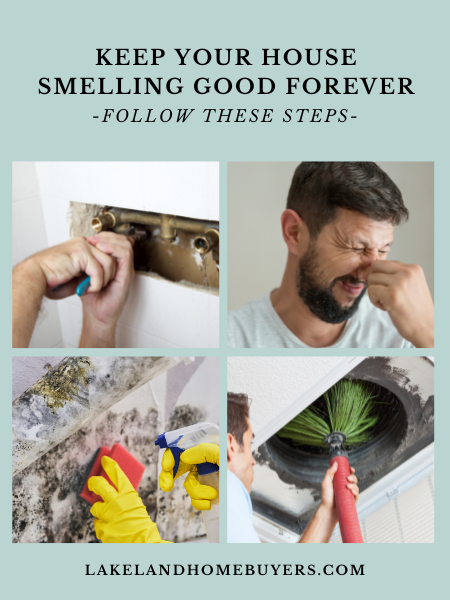 If you have even the slightest inkling that you have mold growing in your home, immediately call a specialist to clean it out. Mold can cause allergic reactions and for people with serious mold, allergies may lead to severe reactions, including shortness of breath.
–

Wash your house
If that old house smell persists, there is still one last tried-and-true method to get rid of that old house smell. 
Break down and eliminate odors, grime, mildew, grease, and dust by washing down your floors and walls with two cups of vinegar, one cup of borax, and 16 ounces of hydrogen peroxide mixed in a bucket of hot water. 
You can then repaint the walls or replace the flooring where you suspect the odor is coming from. 
You can also use odor neutralizers to always leave your house smelling good. Bad odors can be eliminated with baking soda and white vinegar. Place some in a cup and place it in the area that has the odor.
Get professional help
If your house odor persists, then it may be time to call in a professional odor removal company. They use multiple treatments and a range of advanced deodorization tools. Including: 
Thermal Fog – Thermal fog neutralizes odor using a strong deodorizer. Since it's in a fog form, the mixture is able to permeate even the toughest-to-reach spots.
Ozone – Ozone-generating devices are used to produce ozone gas. It is believed that the reactive nature of ozone allows it to attach easily to pollution, especially odorous particles like smoke and organic matter such as viruses, bacteria, and mold spores.
Hydroxyl Generators – Use hydroperoxides to form Hydroxyl radicals that decompose chemicals in the air such as airborne mold spores and eliminate mold odors.
Air Scrubbers – Use high-efficiency particulate air (HEPA) filters that remove odorous compounds from the air.
6 – One last piece of advice 
If you can't get rid of your home's bad odor or just don't want to deal with the hassle, we can help. All it takes is a phone call to Lakeland Home Buyers and we'll buy your house as-is, no matter how much work is required.
You won't have to clean, wash, paint, or spend money on odor removal services. In fact, we'll buy your house regardless of its condition. Even if it has:
Structural damage

Foundation issues

Leaky roof

Open permits

Pest infestation

Functionally obsolescent design

Problems with plumbing

Outdated heating or cooling system

Old electrical system 
We are interested in buying your home, not in listing it. 
We'll buy your house for cash. 

You won't have to deal with home inspections, appraisals, or mortgage approvals. 

There are no buyer showings, open houses, or realtor caravans.

Our

process is faster and much less stressful than listing with a real estate broker

or trying to sell your home on your own. 

You can save a bundle on costly real estate commissions

We tell you the truth and always keep our word.
We are local home-buying experts that purchase houses throughout Lakeland, Florida. Call Lakeland Home Buyers today at 863-372-8937 to schedule a time to talk. There is no obligation.
We love helping sellers sell their homes faster, easier and without fees.