How to Easily Sell a House with Foundation Problems Florida
Few things scare a buyer more than finding out that the Lakeland a home they're interested in purchasing has problems with the foundation. As a seller, the key is to find out what the foundation problems are and disclose them to prospective buyers. Not knowing the extent of the problems and the cost for remediation will scare buyers from making an offer and diminish your chances of selling your home.
Below we share 3 easy steps to follow in order to successfully sell your home. 
Step #1 Confirm that your Lakeland, Florida home has a foundation problem  
Lakeland  houses tend to settle the most during the first few years of construction and may continue to settle slightly during the life of the home. Don't be alarmed if you find minor cracks in the foundation, basement walls or slab concrete flooring. Most of these cracks are cosmetic and are absolutely nothing to worry about. 
Don't assume that you have a foundation problem until you do a thorough visual inspection. Pay close attention to the location and severity of cracks which may appear throughout the house. Cracks that are more than a ¼ inch in width, horizontal fissures and jagged cracks running at 45-degree angles throughout your home are telltale signs that there may be more serious problems. 
Be on the lookout for these severe symptoms. 
∙       Gaps around window frames 
∙       Porches or decks pulling away from the house 
∙       Drywall cracks around door frames 
∙       Sagging, bowing and uneven floors
∙       Doors that stick and are difficult to open or close
∙       Counters and cabinets separating from the wall
∙       Damp basement or damp crawl space in a pier and beam foundation 
They may be a further signs that you have extreme foundation settling that is compromising the integrity of your home. 
Step #2 Find out the severity of your Lakeland  home's foundation problem
If your visual inspection has exposed symptoms of possible foundation damage, it is time to hire a structural engineer. You should hire a licensed structural engineer to give you a report detailing the problems and the remedies. Make sure he in no way has an interest in making the repairs, to avoid the risk that you'll get an exaggerated repair evaluation. Aside from providing you with relevant information on your foundation's issues, a structural engineer report will help lessen concerns of prospective buyers.
A structural engineer report will cost you around $500. If you do not have the money or do not want to pay for a report, contact a foundation repair contractor. They will usually offer you a free repair evaluation and recommend repairs to restore your foundation. Make sure you get your repair evaluation and estimate in writing. This will help you get an idea of the extent of your foundation problems and will guide you in adjusting your sales price in order to sell your house.  
Here's a sound tip. Call several foundation repair contractors and get a written repair estimate from each one. This is a sure way to cut out any unscrupulous contractor who may find fictitious problems or may want to charge an inflated price to fix your foundation. 
Step #3 Decide whether to sell your Lakeland Area house with foundation problems to a traditional buyer or a real estate investor
Once you have determined the extent of your foundation issues and the cost to fix them, you can decide whether to sell your home to a traditional buyer or a real estate investor.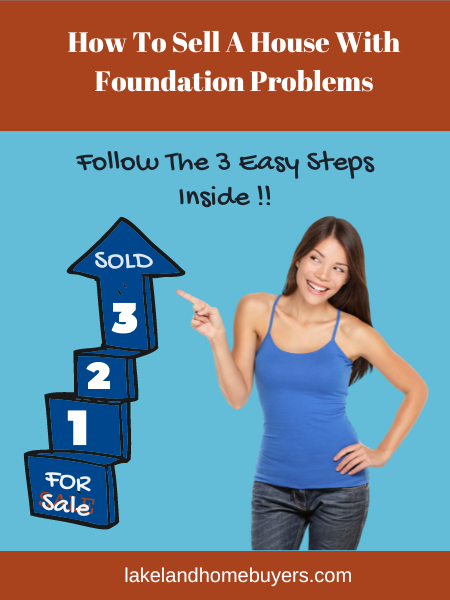 If you have minor foundation problems, it is possible to sell your home to a traditional buyer. You should fully disclose the foundation issues, offer your buyers a copy of the repair estimate, and give them a credit towards repairs. Your buyer can then make any necessary repairs to get a mortgage approval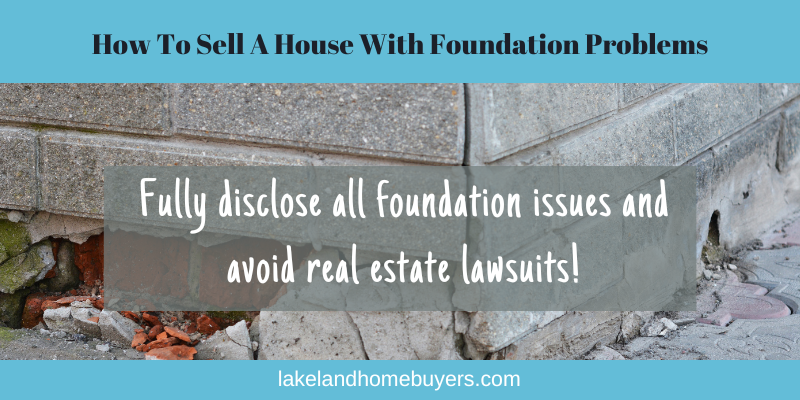 If you have major foundation issues, it will be very difficult to sell your house to a traditional home buyer. Most traditional buyers don't have the experience or the money to tackle major foundation problems. They will most likely view your home as a "money pit" and will be reluctant to take on complicated structural repairs.
In this case, it makes perfect sense to contact a real estate investor who can pay you cash for your home in an as-is condition. 
You can sell your Lakeland  house with foundation problems to Lakeland Home Buyers  and forget about repairs
We specialize in buying homes with all types of structural issues and are not afraid to take on even the most complicated foundation problems. We will pay cash for your home "as is" eliminating the need for appraisals, lengthy home inspections and mortgage approvals. There are no fees for our service. We will not charge you a penny, guaranteed. 
And if you're looking to sell your house quickly, we are the perfect buyers. Sell your house to us in just one day and close in as fast as 7 days. This way you'll eliminate the need to hire an agent, pay a hefty real estate commission, and put up with the uncertainty of finding a buyer.   
Call Lakeland Home Buyers  at 863-372-8937 to get a top-dollar cash offer. Count on us to understand your needs, provide solutions to your problems and deliver exceptional service. 
Do you prefer a visual presentation of what you just read? Look at the How to Easily Sell a House with Foundation Problems Infographic below.