Most buyers look for Lakeland, homes that are in good condition. That is why it is difficult to sell a house that needs repairs. Nonetheless, there are some steps you can take that can increase the chance of your home selling quickly and at the best price. 
Below we'll answer the question, How to sell a house as-is at the highest price?
Find out the true condition of your Lakeland, Florida house
Order a home inspection before you put your home on the market, this way you'll find out what repairs your home needs right from the start. 
Then, even if you're not planning to make the repairs, get 2 or 3 estimates for each major issue your home inspector points out. This way you'll be able to accurately factor in the cost of repairs into the asking price and prevent prospective buyers from trying to justify a low offer based on exaggerated repair costs.
Price your Lakeland, Florida home correctly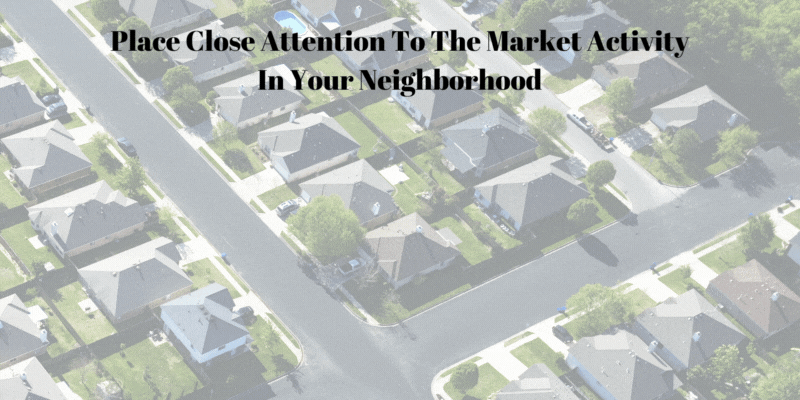 Ask a local real estate agent to give you an idea of the market value of your house. Most agents will gladly prepare a complimentary comparative market analysis report also known as a CMA. 
Your agent will arrive at a market value for your home by comparing your home's age, condition, location and improvements to comparable homes that have sold in the market within the last six months.
Keep in mind that your prospective buyer will expect a discount in the sales price of your house greater than the cost to make the repairs. For example, if your house could sell for $200,000 but needs $30,000 in repairs for a new roof, updated kitchen and bathrooms you can't expect a buyer to pay $170,000 for your house. 
In addition to the cost of repairs, your asking price will have to take into consideration the time, effort, inconvenience and risk that your buyer will have to assume in making those repairs.
Disclose all of your home's problems
Keep in mind that purchasing a Lankeland, Florida house is a big commitment. Buyers want the security of knowing what their monthly mortgage and maintenance costs will be well into the future. They don't want to be surprised with unexpected repairs or costly maintenance issues.
Provide a copy of a sellers' disclosure statement along with your home inspection report and repair estimates to each buyer that shows interest in the home. 
With this information, you'll take out all the guesswork. 
Your buyer will know exactly what repairs your home needs before making an offer. By providing full disclosure, you'll easily win your buyer's confidence and trust.
Your honest and complete disclosure will eliminate the fear of the unknown and increase the likelihood that your buyer will make a reasonable offer.
Make minor repairs to sell your Lakeland, Florida home faster
A home inspection report will not only point out your home's major repair problems, it will also list all the minor defects. With this information in hand, you can concentrate your efforts on repairing the minor defects that can have a big positive impact on your home. 
Look at your home from your buyer's perspective. Work from the outside-in. Try to create an attractive exterior and a welcoming curb appeal by: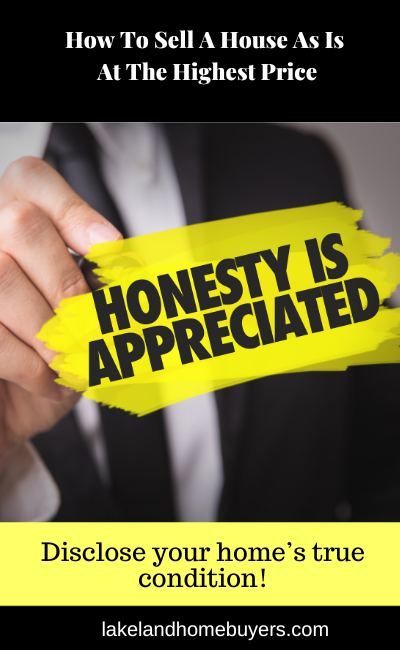 Cleaning your yard

Getting rid of weeds

Re-seeding and mowing the lawn

Pruning overgrown trees and hedges

Power wash the exterior siding and walkways

Pointing damaged concrete foundation and brick stairways

Fixing or replacing broken hand rails 

Painting or replacing the front door

Cleaning the windows

Clean the gutters and point the downspouts away from the house
Once inside your house you could:
Patch any holes in the walls 

Add a fresh coat of paint in the rooms that look drabby

Get your carpets professionally cleaned 

Repair broken windows and doors

Replace caulk around the bathroom tub and kitchen sink 

Fix leaky pipes 

Deep clean grout around tiles

Replace knobs on cabinets 

Improve the lighting by replacing old light bulbs and adding light fixtures

Clean mildew stains 

Eliminate smoke and pet odors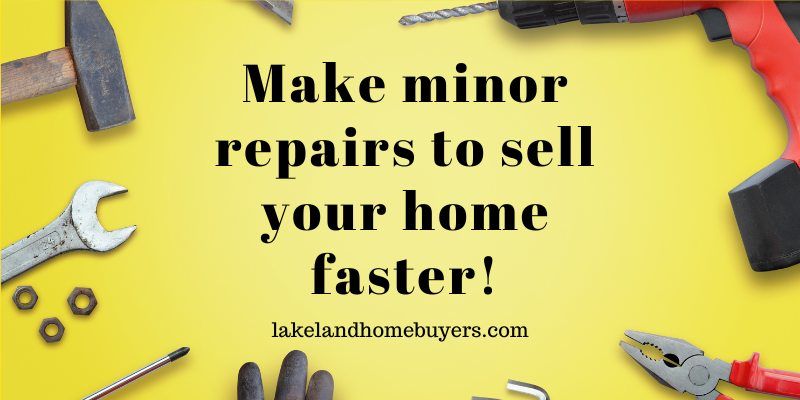 Eliminating a bundle of repair issues from your inspection report will help you go a long way in easing your buyer's concerns and ultimately selling your house faster at a higher price. 
Market your Lakeland, home correctly to increase the likelihood of a sale 
Make it clear in all your marketing and in the property listing that you're selling your home as-is. Don't forget to mention that you will be providing a copy of a home inspection report and a full written disclosure statement describing your home's condition.

Point out your home's positive attributes. That could include your home's location, lot size, floor plan or potential resale value.

Understand who will be your most likely buyer and target them with strong keywords such as fixer-upper, handyman special or great potential.
Below are some examples of different types of buyers that you can market to:
First-time buyers

– A first-time buyer may not have the money to purchase a home in a move-in condition and will be more willing to overlook repair issues for a discounted price.

Investor landlords

– Investor landlords look for properties that are in need of repairs to build equity by remodeling or rehabbing a property. They then rent out the property.

Flippers

– Similar to investor landlords, flippers look for properties where they can quickly build up equity and then resell the house at a profit
Be prepared to receive lowball offers
When you try to sell a house that needs work you'll limit the pool of potential buyers. You'll also bring out a slew of bargain hunters. Don't take offense to lowball offers.   
On the contrary, use any offer even if it's a low one as a starting point to begin negotiations that could lead to a successful sale.
What's the fastest way to sell your Lakeland, Florida house as is without making any repairs?
Skip all the repairs and sell your home as is to Lakeland Home Buyers. We are home buying professionals with years of experience helping sellers who are unable to sell their house the traditional way.
By selling to us you'll eliminate the need to hire an agent, pay a hefty commission and put up with the uncertainty of finding a buyer.
What's more, since we'll buy your house for cash you won't have to worry about the need for home inspections, bank appraisals and mortgage approvals.
Whether your home has fire, water or termite damage, has open code violations, needs a new roof or HVAC we will buy your house as-is.  
And if you need to sell a home fast, we are the perfect buyers. Sell your house to us in just one day and close in as fast.
Leave all your headaches to us. We'll make the entire sales process smooth and worry-free. Call Lakeland Home Buyer at 863-372-8937 to get a top-dollar cash offer today. Count on us to understand your needs, provide solutions to your problems and deliver exceptional service.
For a quick summary, check out the How to Sell a House As-Is, at the Highest Price Infographic below.

Other Helpful Resources To Sell A Home Fast – At The Highest Price