After many years of living in your Lakeland home, you may have gotten used to or just don't notice your home's flaws. The key here is to  look objectively at your home and replace or fix those things that may turn off a prospective buyer. 
Keep in mind that even if your buyer does not ask you to make repairs, chances are that either a home inspector or appraiser may require you to make the repairs.
Since you may not have enough money or time to make all of your home's repairs, we've compiled a list of inexpensive repairs that will help you sell your home faster and at a higher price. 
How to sell a house fast in Lakeland? Create a great first impression with these exterior home improvements.  
It is said it takes one-tenth of a second for us to judge someone and make a first impression. This is also true when a buyer sees your home for the first time. 
Making general repairs to the exterior of your home will help you create a great first impression and attract buyers to come in and see more of your home. 
Landscape
There is no need to spend thousands of dollars. The following simple and affordable landscaping work will help improve your home's curb appeal.
∙       Thoroughly clean your rear yard of personal items and debris. 
∙       Cut dead tree branches
∙       Trim the bushes around your house and prune your flower beds
∙       Pull out weeds 
∙       Replace old or dying bushes and plants
∙       Seed or lay down sod 
∙       Mow your lawn regularly and rake any fallen leaves 
Roof, sliding windows, etc. 
 Here are some simple repairs that will improve the look of your home:
∙       Replace loose or missing roof shingles 
∙       Clean out and secure gutters, elbows and downspouts
∙       Replace broken windows
∙       Clean and remove dirt from the exterior of all the windows
∙       Power wash siding where there has been an accumulation of dirt.
∙       Prime, point and paint foundation wall if necessary
∙       Replace and cement any loose bricks throughout the house 
∙       Cement any loose steps and secure handrails at the front or rear entrance of the house
∙       Repair or replace missing fence boards 
∙       Replace missing or worn out window screens 
How to sell a house fast in Lakeland? Make these minor interior home repairs to appeal to potential buyers.  
You don't need to be a skilled handyperson to make most of these interior improvements. With a little time, a small investment and effort you can make the inside as attractive as the outside of your home.   
These repairs along with the exterior repairs recommended above will definitely help you get a quick house sale. 
Paint
Painting is one of the cheapest and easiest ways to improve the look of your home. Select those rooms you think need a fresh coat of paint. Don't forget to first caulk over any holes or cracks that may be present and fix any water damaged areas.
Declutter 
Over the years you may buy furniture and knick-knacks that clutter your home. It is well worth your effort and will even make your eventual move easier by cleaning and decluttering every room and closet in the house. It may not be easy to part with some of your personal items, but remember doing so will help your home appear larger and more inviting. 
Eliminate Odors 
You may have grown nose blind to the odors in your home. Make an honest assessment and see if there are any unpleasant smoke or pet odors. If so, thoroughly clean the offending room. Shampoo carpets and dry clean drapes. Wash your curtains and clean your blinds with vinegar and soap. Finally, if the weather permits, keep a window slightly open to air out your room.
Lighting 
A dimly lit room can be a big turnoff to buyers. Replace worn out light bulbs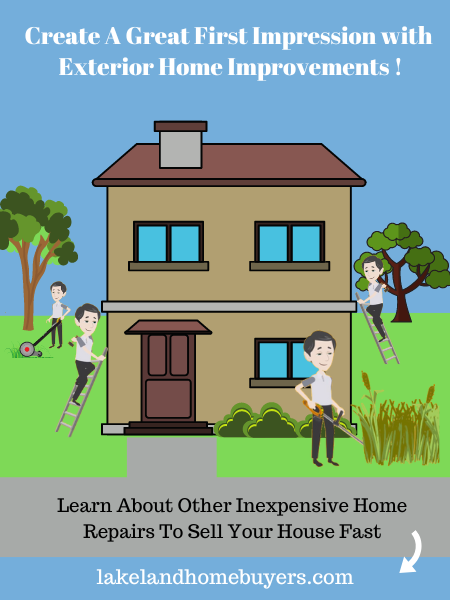 and increase the watts if the light fixture permits. One easy way to increase the amount of light that enters the room is by getting rid of heavy drapes and thoroughly cleaning the windows inside and out.  
Bugs  
Though you may not have roaches crawling over your kitchen sink be very careful with bugs that may find their way into your house. Two areas you
should inspect carefully are the attic crawl space and basement. Clean both areas and get rid of dead bugs and cobwebs.
Fix Flooring  
Sand and stain hardwood floors or replace tile flooring in the kitchen and bathroom.
Kitchen
One of the best places to invest money on improvements is in updating the kitchen. According to the National Association of Realtors (NAR), kitchen remodeling offers the most bang for your buck. Minor kitchen remodeling offers on average a 79.3% percent return.  
One easy way to spruce up your kitchen is to replace the countertop or sink. You could also repaint your outdated kitchen cabinets and replace the hardware. While you are at it, consider repairing or replacing old or broken appliances such as the stove and dishwasher. 
Bathroom
You could easily and inexpensively spruce up a bathroom by replacing an old toilet or worn out bathroom sink. Did you know you could paint your worn out or chipped bathroom tub with Epoxy paint? This is a little more time intensive but may be worth the investment. 
How to sell a house fast in Lakeland even if you cannot make any home repairs?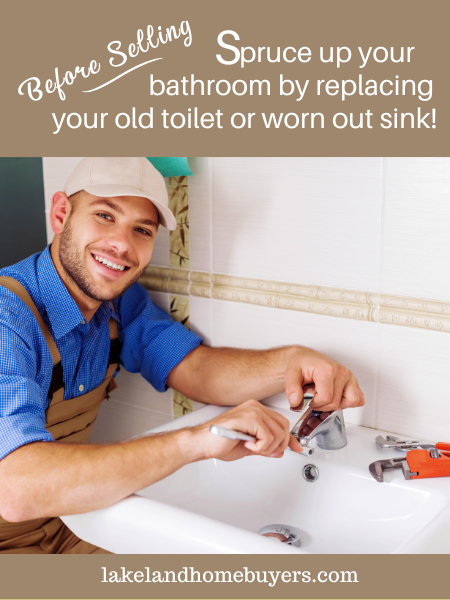 If you do not have the time or money to make home repairs, you could consider another option. You can discount the cost of the repairs and sell your home to Buying Houses Direct. Sell your house to us for top dollar in just one day and close in as fast as 7 days. 
We are professional cash home buyers, with many years of experience purchasing and fixing homes. This is nothing new to us. We buy homes for cash no matter the condition or your personal situation, without the need for a home inspection, appraisal and mortgage approval. 
On top of that, by selling your house to us you'll eliminate the need to hire an agent, pay a hefty real estate commission and put up with the uncertainty of finding a buyer.   
Sell your home fast. Call Lakeland Home Buyers today at 863-372-8937. Count on us to understand your needs, provide solutions to your problems and deliver exceptional service. 
Interested in a quick visual recap of the inexpensive home repairs that will help you sell a house quickly. Look at this Infographic titled, How to Sell a House Fast with inexpensive Repairs.