If you are reading this article, you probably fall into one of two groups of home sellers. You know that your Lakeland home smells bad and are looking for tips on how to eliminate your home's bad odor. Or, you fall into the second group, your mildly conscious that your home "may" have an odor issue because of someone's comments or your own inkling feeling.  
In either case, to understand the extent of your home's odor issues and properly eliminate the smell from your home, you need to acknowledge the reality that we can't smell our own house. 
This happens because we get used to the smells in our environment through a process known as olfactory adaptation. After a while we may become completely nose blind to the smell of our home. 
So the first step is to ask a friend or relative to give you their honest opinion as to the smell of your house before and after you treat it.
Your goal should be to completely eliminate the bad smell and make your home smell clean and fresh. 
You can't hide smells. You need to eliminate them. A home that smells of bleach or strong perfumed chemicals will send a clear message to buyers that there is an underlying odor problem. 
You ultimately want your buyers to fall in love with your home with all of their senses. 
Want to understand how you can smell? Look at this short and easy-to-understand video from Ted.com. 
Three most common stinky Lakeland, Florida house odors
Pet Odors 
To eliminate pet odors, you need to thoroughly clean the pet area, including walls and floors with a mixture of water and vinegar. Vinegar is a great natural deodorizer. 
Wash your pets bedding and accessories and remove your pet's nick knacks and litter box away from the home's living area, preferably to a porch or garage. 
Shampoo your carpets and rugs and get your upholstered furniture professionally cleaned. If that does not eliminate the smell, you may have to replace stained carpeting and padding and throw out stubborn smelling and stained furniture. For additional tips on removing pet stains and odors visit HumaneSociety.org.
If the pet odor persists, consider using an ozone machine. An ozone machine can do wonders to eliminate odors. Ozone (O3) is the second most powerful oxidant in the world and can destroy molecules, bacteria, and spores that cause unpleasant smells. You can usually rent an ozone generator for approximately one hundred dollars per week. 
As a last resort, remove your pet while your house is for sale. Ask a friend to look after your pet or enroll your pet in a day care center. 
Food Odors 
Food odors can permeate well beyond the kitchen. Luckily, they are easier to eliminate than pet and cigarette odors. Deep clean your entire kitchen, paying close attention to vents and exhaust fans. With a damp cloth, wash down your kitchen walls and give it a fresh coat of paint. .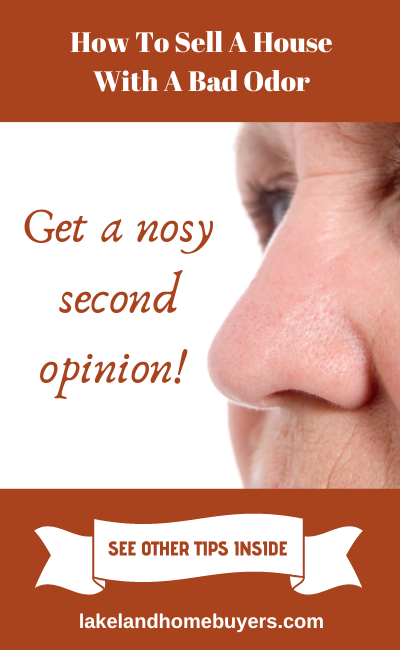 The next time you have an appointment to show your house, at all costs avoid cooking smelly food the night before or the day of a showing and instead invite your spouse out for a meal.
It will assure that your house will stay smelling fresh and as a side benefit will give you an opportunity to schedule a date night and win your spouse's appreciation.
Cigarette Odors
Cigarette smell can accumulate throughout your entire house, including your belongings, making odor removal quite a challenge.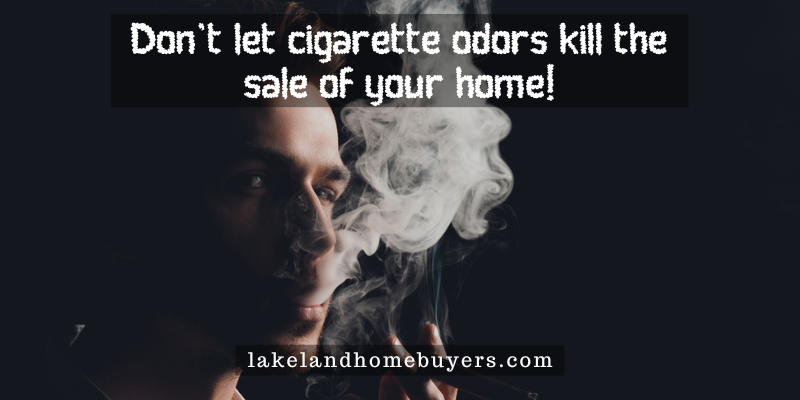 To eliminate cigarette odors start out by washing down all the walls, ceilings and floors. Then apply an odor-blocking primer and sealant and repaint all the rooms in your home. Clean your windows, exhaust fans and change the filters in any ventilation, heating or air conditioning system. 
Get your carpets professionally cleaned and use an ozone machine to help get rid of cigarette smell from those hard to reach places. 
After deep cleaning your house you will need to also remove the cigarette odor from your personal belongings in order to completely eliminate the odor from your home. Below are some suggestions you should follow:
Shampoo your upholstered furniture and rugs. 

Dry clean drapes, throw pillows and bed coverings. 

Clean your window blinds with soapy water.

Wipe down all of your furniture and appliances with appropriate cleaning products 

If you cannot remove the smell from a furniture piece consider gifting it or throwing it out
To avoid your house from once again getting that cigarette smell, limit your smoking to the outside of the house.
Conduct a smell test 
After cleaning and treating the source of the smell, ask a friend or relative to give your house a smell test and provide you with honest feedback. 
If your home can pass the smell test from someone who does not live in the home, then you are ready to show your house.  
What smell will help me sell my Lakeland house?
It is common for retailers to use scent marketing to influence shoppers. Think of the enticing smell of entering a Starbucks Coffee shop, the mouthwatering smell of walking by a Cinnabon bakery stand or the alluring smell of shopping in a Bath & Body Works store. 
According to Eric Spangenberg, dean of the Washington State University College of Business and pioneer in the field of scent marketing, Simple scent works best in increasing sales. 
So keep that in mind. After you've removed the bad smell from your house, diffuse essential oils or light up a candle before house showings. Avoid complex smells like patchouli or pot-pourri. They can negatively impact the sale of your home by distracting your buyer's attention from appreciating your home's features to processing your home's smell. 
One recommendation is to use citrus based oils or candles. The preference for citrus odor is backed by a study of RealEstate.com/au, chef Gary Mehigan and aroma specialist Dr. Megan Thornton which showed that citrus had the highest positive impact on buyers. 
Since citrus is perceived as being clean and pleasant, linking the property to this smell netted potential sellers more money for their home than other common smells.
I've eliminated all the offensive odors but I can't seem to find a buyer for my Lakeland house
If you've taken all the steps to eliminate your home's offensive odors and are having difficulty finding a buyer or you simply do not have the time or desire to treat your house, call Lakeland Home Buyers  and sell your home as is. 
You can count on us to buy your house regardless of the source of the smell, including smoke damage, mold issues, broken sewer lines or musty smell from foundation problems or a leaky roof. In short, we will buy your house no matter its condition!
If you're looking to sell your house quickly, we are the perfect buyers. Sell your house to us in just one day and close in as fast as 7 days. And since we are cash home buyers you won't need to hire an agent, pay a hefty commission nor put up with the uncertainty of finding a buyer.   
Call Lakeland Home Buyers  at 863-372-8937 to get a top-dollar cash offer today. 
Count on us to understand your needs, provide solutions to your problems.
Additional Tips and Resources to Help You Sell A House That Smells Bad