According to insurance industry research, 14,000 people in the U.S. experience a water damage emergency each day, which costs homeowners and insurers $2.5 billion annually. That is a lot of spilled water and money down the drain! 
If your Lakeland, Florida home has water damage because of a leaky roof, a burst pipe, backed up sewer lines or foundation issue, you have two choices. You can fix your house and put it on the market or try to sell your home as-is. Whatever you decide, below we share tips to answer the question, How to sell a house with water damage? 
After viewing this video, continue reading for more in-depth information
Tip #1 – How to sell a house with water damage? File an insurance claim 
Luckily, most policies cover water damage that is sudden and accidental. To make sure that you have a problem free insurance claim follow these steps:  
∙      Inform the insurance company of the incident and file a claim.
∙      Document all the damage. Take pictures of the water damage to 
       your house and personal property. 
∙      Wait for an insurance adjuster to inspect your home before making any  permanent repairs.
∙      Wait until after the insurance inspection to throw out any water-damaged personal property. 
       This way you'll make sure you'll get reimbursed for all your losses. 
∙      Keep a record of all your expenses and repairs. 
Tip # 2 – How to sell a house with water damage? Hire a professional water damage restoration company.
Play it safe and hire a water damage specialist certified by the Institute of Inspection, Cleaning and Restoration Certification (IICRC). This way you will be assured that you will get a quality start to finish restoration. 
Water restoration companies can help you with water extraction and drying, cleanup, board-up, reconstruction, mold remediation and odor removal.
By hiring a certified water damage specialist, you will show prospective buyers that the water restoration project has been completed in a conscientious and professional manner. This will help you overcome your buyer's objections about the future safety of your home especially, in regard to mold.  
Tip #3 How to sell a house with water damage? Disclose, Disclose, Disclose 
The best way to sell your Lakeland home without complications and at the highest price is by being 100% honest with your buyers. 
Protect yourself from future legal claims and win your buyers confidence by disclosing your home's water damage and restoration. With complete disclosure, you will have a successful closing.
Can't fix your water damaged house or find a buyer? Call Buying Houses Direct
If you don't have the time or money to make the repairs then you're in deep water. Selling a water-damaged home to a traditional buyer without making repairs is nearly impossible.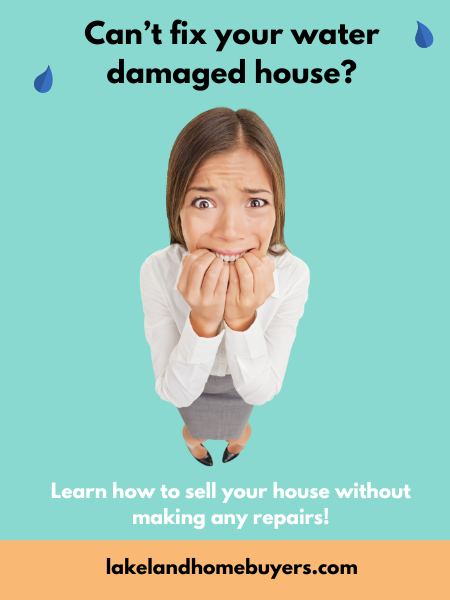 The fear of mold is enough to scare most buyers away. Even if you find an intrepid buyer, chances are that your buyer will not get a loan approval unless all repairs are completed before closing.
However there is another option. You can sell your Lakeland house as-is to a local real estate investor such as Lakeland Home Buyers . By selling your house to us you'll avoid the need of a bank appraisal, lengthy home inspection and mortgage loan approval.
You don't need to worry about a thing. We'll take care of cleaning and repairing your home and even pay for your closing costs.  We'll guide you through the entire sales process, to make the sale as smooth and worry-free as possible. There are no fees for our service. We will not charge you a penny for our service, guaranteed. 
And if you're looking to sell your house quickly, we are the perfect buyers. Sell your house to us in just one day and close in as fast as 7 days. This way you'll eliminate the need to hire an agent, pay a hefty real estate commission and put up with the uncertainty of finding a buyer
Call Lakeland Home Buyers at 863-372-8937 to get a top-dollar cash offer today. Count on us to understand your needs, provide solutions to your problems and deliver exceptional service. 
For a quick visual recap on selling a house with water damage check out this infographic.

Additional resources on selling a house with water damage in Lakeland, Florida