Are you considering selling your Lakeland area house as a teardown property? Before you decide, read this blog. 
What is a tear-down house?
A tear-down house is a home that, because of age or lack of maintenance, becomes functionally or physically obsolescent to such a point that it becomes economically impractical to repair or modernize the home. 
Functionally, obsolescent refers to a house that is no longer desirable because of dated building design, size, or outdated amenities. Some examples include a house that has three bedrooms and only one bathroom, a shotgun house that has all the rooms arranged one behind the other, or a house with undersized bedrooms that do not meet today's minimum residential code standards. 
Physical obsolescence occurs when a home's maintenance is neglected. If the physical obsolescence is extreme, the property's value may decline to a point where the property has no value at all.
Selling your house as a tear-down is the best option when no sensible builder, buyer, or investor would be willing to buy your house to fix or to live in it.  
What factors make selling a property as a tear-down practical?
The likelihood that you will be able to sell your townhouse depends on several factors. 
Quality of the neighborhood

Amount of buildable lots in your neighborhood

Size of your lot 

Location of the lot (i.e. corner lot, lot with a view, lot bordering a lake or ocean, lot bordering a national park or protected reserve)

Proximity to transportation, shops, cultural and recreational amenities 
If these external factors are in your favor, you may be able to sell your tear-down property for a very good price. 
Steps in selling a teardown house
The first step in selling a teardown house is to analyze the factors we listed above. If your home is in a desirable neighborhood with a lot of construction, limited numbers of buildable lots, on an average or above average sized lot, close to the historic center of town, or facing the waterfront, then you can demand a higher price.
Second, order an appraisal on the property. Needless to say, you need a professional to tell you what the land beneath your home is worth. Pricing your home correctly will assure that you will sell your house quickly and ultimately at the best price. 
By getting to know what competing properties have sold for in your neighborhood, understanding the factors that can positively affect a tear-down sale, and paying for an appraisal, you guarantee that the bargaining power will be in your hands. 
Third, decide whether you want to list your tear-down house with a real estate broker or prefer to sell it for sale-by-owner. 
If you plan on selling through an agent, make sure that the agent has experience selling distressed properties. Even better, find an agent that has experience in marketing real estate-owned properties (REO) properties. REO properties are properties that have been foreclosed by the bank.  
These agents have a pool of investor buyers that purchase houses in all types of conditions. In all likelihood, they will have the ideal investor who would be interested in purchasing your house.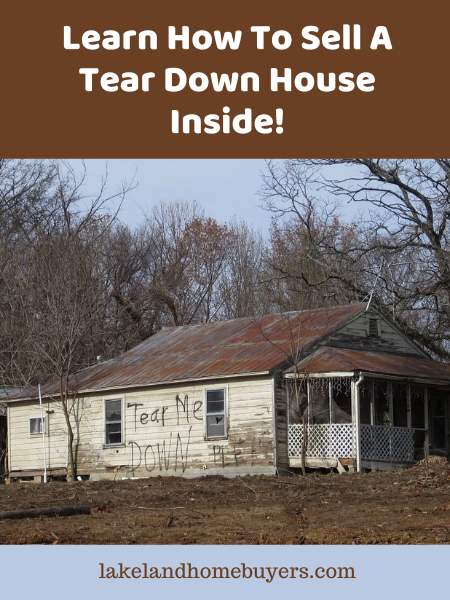 Another possibility is to sell your house on your own. That can be a very practical alternative. Depending on the desirability of your house, you may be able to find an investor buyer for the house very fast and save yourself a bundle on the real estate commission. To find practical ideas and tips on selling your house on your own, read How to Sell a House by Owner–Ultimate Guide Lakeland, Florida.
The easiest way to sell a Lakeland, Florida tear down the house
If you want to sell a tear-down house in the Lakeland area with the least amount of costs and hassles, call Lakeland Home Buyers.
Eliminate the difficulties of selling your house the traditional way with a real estate agent or the headaches of selling "For Sale By Owner". 
We will purchase your home as-is, in its present condition, no matter how much work is required.

You won't have to deal with home inspections, appraisals, or mortgage approvals.

There are no buyer showings, open houses, or realtor caravans.

You won't have to deal with nosey neighbors and tire-kickers.

We tell you the truth and always keep our word.

We have vast experience buying homes in all types of conditions and circumstances.
We are local Lakeland area real estate investors that will give you a cash offer on your house in as-is condition. We can close according to your time frame and if needed in as fast as 7 days and we'll even pay for your seller's closing costs.
We'll walk you through the entire sales process to make your transaction smooth and headache free. 
Call Lakeland Home Buyers at 863-372-8937 to schedule a free, no-obligation appointment to get your home sold and move on with your life.