Time passes by so fast! Eventually many of us reach the stage in life where we become our parent's caregivers. As good sons and daughters, we not only look after their physical wellbeing but also their financial interest. 
Because of declining health, lack of mobility or difficulty in maintaining their Lakeland, Floridahome, your parents may be considering selling their home and downsize. Below we'll share 5 steps you should follow when helping sell your elderly parent's home.
Step 1 – Decide on a clear plan of action
Together with your siblings, have an open conversation with your parents about where they prefer to live. Consider the fact that over time they will have increased medical expenses and will be less likely to look after themselves. 
Analyze their income and financial expenses to determine if it's best for them to move to a smaller house, apartment, retirement community or nursing home.
Step 2–Get their Lakeland, Florida house ready to sell 
If your parents have lived in the same house for decades, chances are they have put off general maintenance. Their home could be in need of new fixtures or a new roof and a complete remodel. With elderly parents in the home, it's impractical to make major renovations. 
With some minor effort and inexpensive home repairs however, you can do wonders to make your house presentable. The first step is to declutter and clean the house. Help your parents decide what they will keep and what they will donate or throw out. Then roll up your sleeve or hire a cleaning company to thoroughly clean the house including the windows, attic, crawl spaces, basement and garage. 
Once everything has been cleaned, then start concentrating your efforts on the yard. If necessary re-seed the lawn and prune overgrown hedges and tree limbs. Finally, make sure to mow the lawn on a regular schedule. 
A clean, decluttered house with a pleasant curb appeal will make it easier for you to attract a buyer and sell at a fair price.
Step 3 – Don't rush the sale 
Selling a home you have lived in for years is physically and emotionally draining for any homeowner at any age. But it is much more of a challenge as we grow older. 
Set aside plenty of time to interview and choose the right real estate agent, negotiate the sale and coordinate the move to a new home. 
Step 4 – Organize all the important paperwork
If appropriate, get a power of attorney, authorizing you to sell the home and administer their finances. This is a good time as well to get the mortgage statement, life insurance policy, bank accounts and will so you have a clear picture of their financial situation. 
Step 5 – Provide moral and emotional support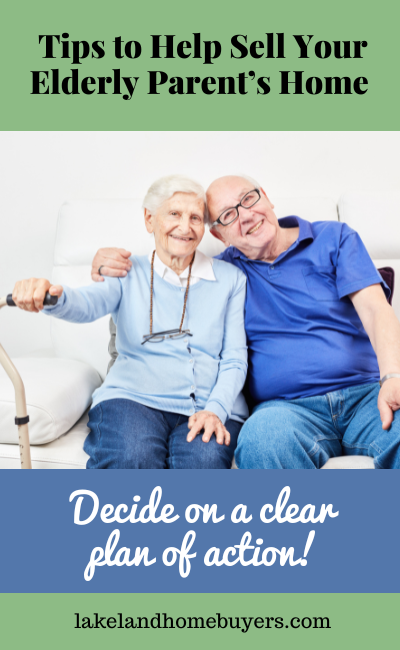 Parting with one's belongings, home and neighborhood can lead to a deep sense of loss, anxiety and depression. Make it clear that you are available for your parents not only for physical support but emotional support as well. Lend a comprehensive ear and caring shoulder whenever you see that your parents are frustrated or sad.
What should I do if my elderly parent's Lakeland home has major repair problems or they need to sell their home quickly?
If you are having difficulty finding buyers because of the home's condition or you need to sell your parent's home fast because of a health issue, call Your Company Name. We are home buying experts. 
Forget about cleaning, clearing or fixing your parent's house. Leave your headaches, unwanted personal items and junk to us. We'll buy your parents' house as-is regardless of the home's age or condition. 
And if you're looking to sell your house fast, we are the perfect buyers. Sell your Lakeland Area house to us in just one day and close in as fast as 7 days or on a date that is convenient for your parents. On top of that, by selling to us you'll eliminate the need to hire an agent, pay a hefty commission and put up with the uncertainty of finding a qualified buyer.
Call Lakeland Home Buyers at 863-372-8937 to get a top-dollar cash offer today. Count on us to make the sale hassle-free, treat your parents with warmth and respect and deliver exceptional service.
For a quick recap, check out the Selling Your Elderly Parent's Home In 5 Simple Steps infographic below.