When you inherit a Lakeland, Florida house you will need to cope with many emotions. The death of a loved one is difficult, and the extra burden of having to safeguard your inheritance can be straining.
If you are the sole heir, the financial responsibility will fall completely on your back. Don't rush into any decision. Before you do anything, contact a tax attorney to guide you through the legal process of transferring the home to your name.
If there are other beneficiaries, make sure you talk to them and come to an agreement as to what you will do with the property. Differences among family members can cause even good relationships to sour.
Below we'll share some sound advice to help you answer the question, 'What to do with an inherited house in Lakenland, Florida?'.
After viewing this video, continue reading for more in-depth information
Check Your Insurance Coverage
Be aware that if you've inherited an old house there is the chance that it has failed an insurance inspection in the past and you may be running the risk that your homeowner's insurance may be canceled.
Check that your home has enough coverage to rebuild it, in case there is natural disaster or fire. Make sure that you tell the insurance company you are the new owner.  
Even if you do have insurance, make sure you read the fine print on your policy. Most likely your current policy will require that the home remain occupied. If you believe that your home will be vacant for more than 30 days, then purchase an unoccupied and vacant home insurance policy. 
Keep in mind that insurance claims on a house that has been empty for more than 30 days will be denied.
Secure your house
An empty house is a prime candidate for theft and vandalism. So if your house is empty, secure your property right away. Replace broken windows, secure loose doors, and change the locks throughout the house. You may also want to ask a trusted neighbor to keep an eye on the house for any suspicious activity. 
You can even call your local police department and ask them to look after your property. Many local law enforcement agencies will try to keep an eye on your property by scheduling more drive-bys in your neighborhood.
Pay past due bills
Avoid accrued interest, late fees and service interruption by paying past due bills. Pay outstanding property taxes or HOA dues and contact the electric, gas company and water authority to pay any outstanding bills.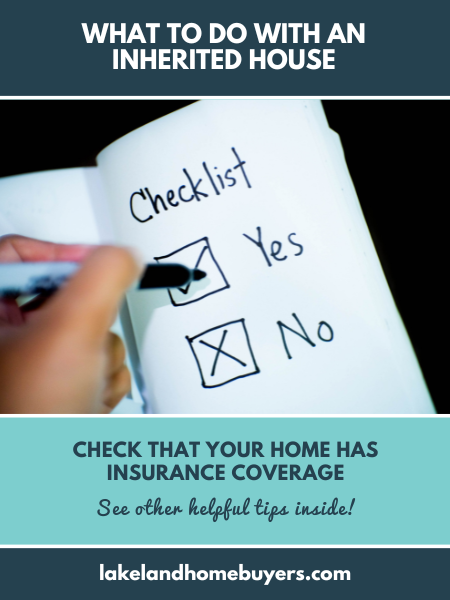 Get a home inspection
Before deciding whether to rent or sell your inherited home, get the property inspected. A home inspection may expose deferred maintenance issues and hidden repair problems.
If your home inspection has exposed minor issues, you can make the repairs yourself. If there are major problems, then hire a professional contractor.
Once you have followed the steps above, you can weigh the different options available to you.
What To Do With An Inherited House in Lakeland, Florida. Should I move in?
If you have inherited a home without a mortgage or have the financial ability to pay off an existing mortgage, then one practical choice is to move into the home. You can build equity in the home over time and save on monthly mortgage or rent payments.
Since you will live in the home, if you do not have the money or time, you can put off the repairs into the future.
What To Do With An Inherited House in Lakeland, Florida. Should I rent it out?
If you already own a home and want extra income, then renting out your house could be ideal. Before you rent out your house, find out what the market rents are by speaking to a local real estate agent.
Prepare a clearly written lease agreement which spells out the responsibilities and obligations of both the landlord and the tenant.
Make sure that all the family members that will pay the rent, sign the lease and don't forget to give a copy of the signed lease to the tenant.
Visit legaltemplates.net to create a free Residential Lease Agreement that is tailored to the state where you own the property. 
Reduce your chances of getting stuck with a bad tenant. Ask the tenants to fill out an application form where they give you:
∙  Full name of each person that will sign the lease 
∙  Contact information
∙  Date of birth
∙  Employer information
∙   Previous address for the last two years 
∙  Previous landlord contact number
∙  Social Security Number 
∙  Authorization for you to check their credit report and to do a criminal background check. 
∙  Signature line for each individual whose credit and criminal history is checked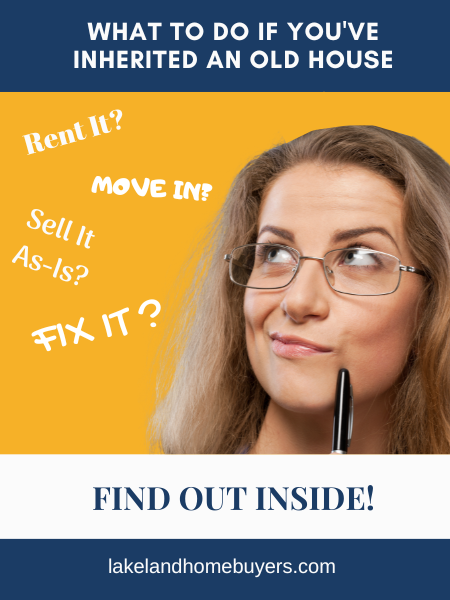 Do your due diligence and verify their employment, contact their previous landlord, run a credit check and criminal background. Each of the three credit bureaus (TransUnion, Equifax, Experian) offer a tenant screening process which allows you to pull a credit report on potential tenants.
Other helpful tips
∙  Do not hand over keys to the tenant until you have received a full security deposit
∙  Prepare a move-in inspection checklist and inspect the entire house with the tenant, before the tenant moves into the house
∙  Take exterior and interior pictures of the house. This could be very helpful for you in court if your tenant damages your home.
SOME POSSIBLE DISADVANTAGES OF RENTING OUT YOUR HOUSE 
You will have to repair the home right away if you want to rent your house at market rate
You could get stuck with a bad tenant that does not pay the rent on time or destroys the house
If you are in a down market your home could depreciate considerably.
What To Do With An Inherited House In Lakeland, Florida. Should I sell it?
Reasons why you may need to sell your Lakeland house: 
Distribute the inheritance among several heirs

You do not have the money to pay off an existing mortgage

You do not have the time or the money to fix your home

You have inherited a house located far away

You do not want the risk of problem tenants

You are in a hot seller's market and believe that now is the time you can get the most money for your house
If you want to sell your inherited house, the traditional way with a real estate agent, it will take a lot of work and commitment on your part. You will have to select the right real estate agent, clean, repair, declutter and stage your home. You will also need to make your home available for showings on evenings, weekends and for last-minute appointments. 
Sell your inherited house to Lakeland Home Buyers quickly and easily and close in as fast.
If your Lakeland Area home is in need of repairs or you want to avoid the hassle of selling your home through an agent, call Lakeland Home Buyers . You can sell your home to us for cash and stop the monthly costs of utility bills, mortgage payments, taxes, insurance, HOA and household maintenance. 
The advantages of selling your home to us include:
No need to make repairs

Do not have to stage your home 

Avoid long listing contracts

No need to show your house to an endless parade of buyers

No real estate commissions or marketing fees

No seller closing costs

Eliminate the stress of trying to find a buyer

Avoid the worry of lengthy home inspections, bank appraisals, mortgage loan approvals and final walk-throughs 
We'll guide you through the entire sales process, to make the sale as smooth and worry-free as possible. 
Call Lakeland Home Buyers  now at 863-372-8937 to get a top-dollar cash offer. Count on us to understand your needs, provide solutions to your problems and deliver exceptional service. 
For a quick recap of what you've just read, look at the What To Do With An Inherited House infographic below.

More Helpful Tips And Resources To Help You With Your Inherited House in Lakeland, Florida