Selling a house in, can be a challenge. Selling a house in a bad neighborhood can be a daunting task. Unfortunately, when you decide to sell your home, you have to deal with factors that are out of your control, such as a bad neighborhood. 
Now, rather than just giving up and letting the market dictate whether or not you find a buyer, follow the tips below to increase the likelihood you'll get your house under contract and get your home sold. 
1. Find a Realtor rainmaker
Not all Realtors are created equally. Some are part-timers, others are new to the business and other Realtors are generalists and will list any property in any area just as long as they have a chance to earn a commission. 
To make sure you have a greater chance to sell your house, hire a Realtor that specializes in selling homes in your neighborhood. 
Make sure he is a mover and shaker. He must have experience in selling homes in your area and have established contacts with other agents, investors, landlords, property managers and past buyers. 
A rainmaker agent will employ all of the proven marketing tactic and do the legwork to contact all the possibly interested parties and let them know they have a motivated seller.
2. Price your Lakeland home correctly
Harold Samuel coined the phrase "location, location, location" as the three things that matter the most in property. 
There is also another truth, pricing your home correctly is one of the surest ways your home will sell faster and at the highest price. 
Make sure you price your home correctly right from the start. A newly listed home has the greatest chance of attracting attention from buyers that are currently looking for a house. 
By pricing your home realistically you will capture all the pent up demand for a home with your features at your price point. 
Not only that, but by having multiple buyers interested in your home you will increase the chance that you will receive multiple offers and sell your home at the highest price. 
3.Enhance your home's curb appeal
There is not much you can do to change your neighborhood's appearance. However, you are in total control over how you can present your home. 
For starters work on creating an attractive curb appeal. A positive first impression works as magic in the home selling process.
Now, that doesn't mean you have to spend thousands of dollars.  You can power wash the outdoors, replace old shrubs, clean up unwanted debris, repair patchy spots in your lawn and plant new flowers.
The idea is to make your buyers feel welcomed as soon as they glance at the home. 
You can then work on creating an inviting entry by repainting the front door, changing the hardware and placing a welcome mat. 
When it comes to the inside of the home cleaning, decluttering and making minor repairs can help you focus your buyers on the positive attributes of your home rather than the neighborhood.  
For more ideas on small, affordable fixes and updates that will help you sell your house read, "How to Sell a House Fast with Inexpensive Repairs Lakeland, Florida".
4. Focus on your home's positive features 
As we mentioned in tip #3, it's very important to point out your home's positive features to every prospective buyer. 
Make sure that your Realtor includes your home's outstanding feature in every add copy, open house flyer, MLS description and as a rider on your for sale sign. 
5. Offer incentives
An effective tool that you can use in case your house is not selling is to offer incentives to your prospective buyers. 
Incentives can include providing a home warranty, offering to pay discount points for the buyer or giving a buyer a credit towards repairs or closing costs.
Another very powerful incentive is to offer owner financing, which could include holding back the mortgage or giving a second mortgage. 
To better understand how owner financing works look at this article, 5 Ways to Sell Your House Fast in 5 Days. 
Even if your house is in an undesirable neighborhood, incentives can tip the scale in your favor in getting your home sold.
6. Lower the price
Another alternative is to drop the price of your home.
Lowering the price of your home opens your home up to a whole new set of buyers who may not have considered your home because it was out of their price range.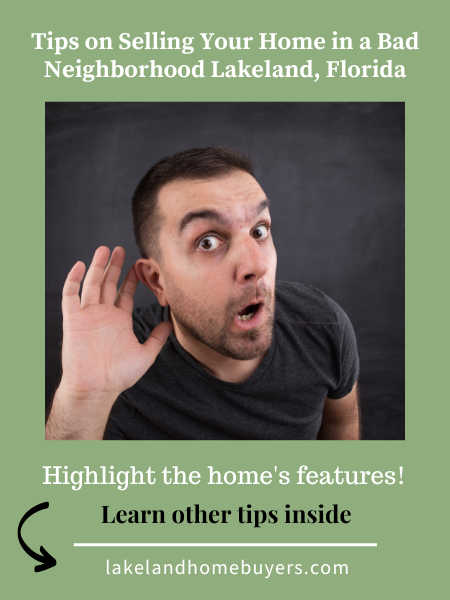 7. Sell as-is to a cash home buyer
If all your attempts to sell your Lakeland home have failed. There is one sure way to get your home sold fast even if it's in a bad neighborhood. 
Sell your house to a real estate investor. Real estate investors differ from traditional buyers. They see opportunities that others may not.
It does not matter if your home's neighborhood is considered bad because it is:
Close to train tracks

Close to highway

Next to an industrial park

Next to a cemetery

Has loud neighbors or college fraternity houses on the same street

Has a high crime

Close to power plants or utility buildings
What's even better is that investors will buy your house not only if it is in a bad neighborhood but regardless of its condition. 
Sell your Lakeland home quickly and easily by calling Lakeland Home Buyers at 863-372-8937. We are local, professional home buyers.
If you want an easy, secure and hassle free sale without the need to clean, declutter, fix, stage or market your home call us today!