Chances are you have seen a fair number of "we buy houses for cash" signs or have received a mailer from a "we buy houses" company offering to buy your house. You may be wondering what is so special about selling your house to a cash home buyer.
Below, we'll point out the key advantages of selling your home to a cash home buyer, but first let's see who are cash home buyers.
Who are cash home buyers?
Cash home buyers are solopreneurs or companies that actively look to buy houses either to fix and flip, wholesale or to buy and hold as rental property.
For sellers who need to sell their home fast because of a new job, financial distress or personal circumstances such as a divorce or illness, cash home buyers provide an easy and fast way to sell a home. Most will purchase your home for cash, regardless of its condition, and close in a matter of days.
Advantage #1 – Save time and money on prepping your home for the market
Traditionally, when you sell a home, you have to declutter, clean and repair your home before putting it on the market for sale. That can take several weeks or months and cost thousands of dollars. You can avoid all of this by selling your home as-is to a cash home buyer.
You could even leave behind your unwanted personal items and simply concentrate your efforts on looking for a new place to live.
Advantage # 2 – Avoid contingencies  
Most real estate deals include contingency clauses, which allow the buyer to back out of the sales contract if certain conditions are not met. Some common contingencies include:
Home Inspection Contingency – During the inspection period, which is usually 14 days, the buyer could back out of the contract if the extent of repairs are more than they anticipated or if undisclosed repairs are discovered by the home inspector.

Mortgage Contingency – The mortgage contingency clause sets a specific period which is negotiated by the buyer and seller for the buyer to apply for and get a mortgage approval. The buyer could back out of the contract if he does not get the mortgage within the specified time or is denied a mortgage.

Appraisal Contingency – Permits the buyer to back out of the contract in case the house doesn't appraise for the sales contract price.

Home Sale Contingency – This contingency allows the buyer to back out of the sales contract in the case the current home they live in does not sell.
Contingency clauses throw doubt into the sale of your home. Fortunately, since cash home buyers don't rely on a mortgage or capital from the sale of a primary residence to purchase your home, all of these contingencies are eliminated.
When you sign a contract for sale with a cash home buyer, you enjoy the peace of mind that your house is as good as sold.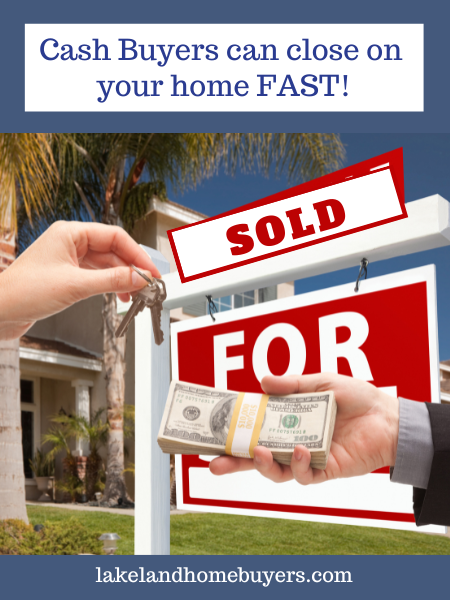 Advantage #3 – Save on commissions
Commissions add up to 6% of the sales price of your home. By selling directly to a cash home buyer, you eliminate the need to list your home with an agent, market it to the public, wait to find a buyer and, most importantly, save a bundle of money on real estate commissions.
Advantage #4 – Avoid common closing delays
It is common for sellers to have to deal with one delay or another when selling a home. The most common closing delays include:
Home inspection issues

Survey issues

Title issues

Issues with buyer qualifying for the mortgage
When you sell your house to a cash home buyer, you can forget about the delays. Cash buyers have the experience of buying houses under different circumstances and know how to overcome even survey or title issues so that you can close on your house fast.
Advantage #5 – Selling to a cash home buyer is easy
Rather than going through the long drawn-out process of marketing your home, waiting around to find a buyer and then waiting some more for your buyer to get a mortgage approval, you could sell your home to a cash home buyer quickly and easily.
All it takes to sell your house to a cash buyer is a simple phone call. You will usually get an offer within 24 hours and after signing a basic easy-to-understand sales contract (without the usual contingencies) you close and get your money in as fast as 7 days. It's that simple. There are no fuss or complications.
If you've seen enough and want to sell your house to a cash buyer, call Lakeland Home Buyers at 863-372-8937 to get a top dollar cash offer today.
Count on us to understand your needs, provide solutions to your problems, and deliver exceptional service.