Life brings us some unexpected surprises. Some of those surprises can truly be very unfortunate, such as dealing with a home that suffers damage from a natural disaster. 
We can never really be fully prepared when a natural disaster strikes. In this blog, we'll address the steps to take if you decide to sell your Lakeland house rather than keeping it. 
First, wait until the local authorities say it is safe to return to your house. Do not drive or walk through flooded streets and be careful of debris that may injure you or damage your vehicle. 
Avoid standing water in and outside of your house. The water could be electrically charged from downed power lines. 
Document the damage
Once you have made sure your home is safe to enter, document all the damage. You could easily create a record of the damage by filming each room and recording a verbal description as you tour the house.. 
Contact the insurance company
Remember, your insurance company is probably going to be inundated with claims. Contact your insurance company as soon as possible and file a claim. The sooner you report your claim, the better, this way you'll be at the top of the list.   
To get your insurance claim processed faster, save receipts and keep records of what you spend on any repairs you make to the house, as well as receipts for meals and lodging, in case you have to stay outside of your home.
Take steps to mitigate further damage 
Unless your house is a total loss, you should secure your house from intruders, board up any broken windows, and at a minimum place a tarp over any exposed areas to prevent any water or wind damage. 
Decide what you are going to fix 
Since this is an article on how to sell your Central Florida house as-is after a natural disaster, don't spend money on making major renovations but rather make those repairs that are absolutely necessary for your home to feel clean and safe. 
Keep in mind that the future buyers may want to renovate the home to their taste. 
Document the repairs
It is extremely important to document all the repairs carefully.. This will serve two purposes. You'll need to present this documentation to your insurance company in order to get your claim settled, and it will help you when it comes time to sell your home.
To sell your home quicker and at the best possible price, you must allay the concerns and fears that prospective buyers have in purchasing a home that has been damaged. 
The best way to do that is to disclose everything you know about the damage and subsequent repairs you have completed on the home. 
You should also consider giving the buyers the following documentation prior to negotiating the sales price.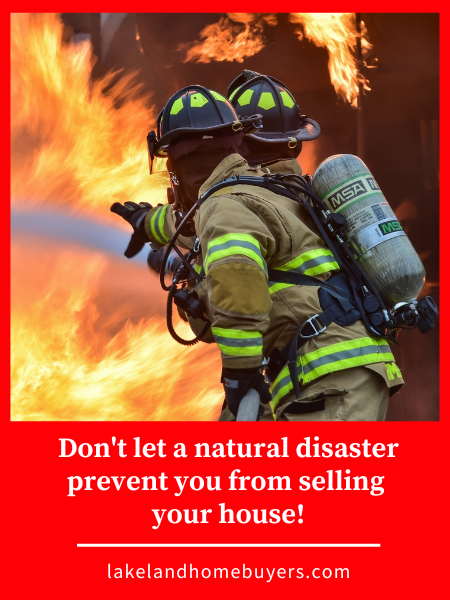 Copies of the contracts

you signed with each contractor. Make sure the contract includes the scope of work.

Pictures or film

of the damage and the important stages of the repairs. 

Home inspection report.

It is a good idea to get your home inspected prior to putting it on the market. You will ultimately put you in a stronger bargaining position if you correct any hidden repair issues before you get to the stage of negotiating the sale of the home. 

Structural Engineer's Report.

If the damage to your house is extensive, get a structural engineer inspection to validate the structural soundness of your house. 
What's more, an engineer's structural inspection will give your buyers the confidence to buy and will speed up the closing process.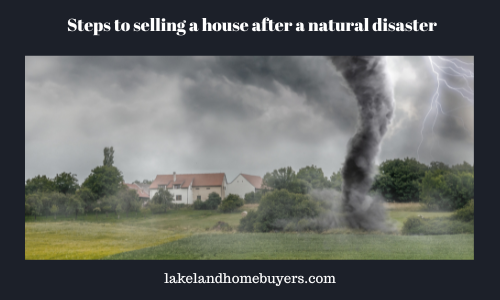 Sell your Lakeland house as-is to a local real estate investor 
Selling your house to a real estate investor makes a great deal of sense if it falls under any of these scenarios:
Your home has sustained major damage and has been written off by your insurance company as a total loss. 

You prefer a cash payment from your insurance company to settle your insurance claim.

You can't afford to make the repairs.

Your insurance policy does not cover damage due to a natural disaster.

The value of your home won't justify the expenses needed to fix it.
If you don't have the funding, desire or expertise to rebuild or repair your home, you can sell your house to us without having to worry about making any repairs at all. 
We are interested in buying your home, not in listing it. 
We'll buy your house for cash. 

We will purchase your home as-is, in its present condition, no matter how much work is required.

You won't have to deal with home inspections, appraisals, or mortgage approvals. 

There are no buyer showings, open houses, or realtor caravans.

Our process is faster and much less stressful than listing with a real estate broker or trying to sell your home on your own. 

We tell you the truth and always keep our word.
We have vast experience buying homes in all types of conditions and circumstances. 
All it takes is a simple phone call. You will usually get an offer within 24 hours and after signing a basic easy-to-understand sales contract, close quickly and get your money right away. It's that easy. There are no hassles or complications. 
If you want to sell your Lakeland house to a local reliable investor, call Lakeland Home Buyers at 863-372-8937 to get a top-dollar cash offer today.
Count on us to understand your needs, provide solutions to your problems, and deliver exceptional service.
More Tips And Resources To Help You Sell Your Lakeland House As-Is After A Natural Disaster