If you need to sell your house fast in Lakeland, Florida, this blog is for you. Below we'll discuss the two main factors that influence how fast your house will sell and we'll share some proven tips to sell your home quickly, regardless of the current market conditions.
At the end, we'll present an alternative way to sell your house fast even if you don't have the time to implement the tips below or find them way too burdensome.
Two major factors that influence how fast your house will be sold: 
There are two main factors that you should analyze before carrying out the tips that we recommend below. The results of this analysis will help you in deciding how low to price your home and how much you should invest in preparing your home for sale. It will also help you decide whether to give bonuses to selling agents and assistance in paying buyer's closing costs. 
1. IS IT A BUYER'S OR SELLER'S MARKET? 
It's important to understand the difference between a buyer's and a seller's market. Basically, a buyer's market is when there are more homes for sale on the market than buyers looking to purchase. This imbalance increases the average days on the market for a home to sell and puts downward pressure on home prices.
That means that you will have to compete harder with other sellers to find a buyer. 
If you find that you are in this market, then you need to price your home very realistically. Ideally, at the lower end of the price range, you would expect to sell your house.
A seller's market, on the other hand, is when there are more buyers looking to purchase a home than available homes for sale. That means that as a seller, you could expect to sell your home at a higher price in a shorter amount of time.
In a seller's market, you don't need to sweeten the pot in order to attract potential buyers. Nonetheless, you need to price your house based on comparable sales and implement the techniques below to increase the odds of your home selling faster. 
If you're not sure if you are in a seller's or buyer's market, contact a local real estate agent and ask them to share their assessment of the current real estate market conditions. 
2. LOCAL MARKET CONDITION
After you get an understanding of the overall real estate market, look at the local market conditions. 
Since the biggest effect on real estate is its location and since all real estate is local, the market conditions in your immediate area may have a bigger effect on the average time it takes to sell a home than whether it is a buyer's or seller's market. 
For example, a major construction project or a new large business moving to your neighborhood could increase demand and decrease the average days on the market to sell your house. 
Proven tips on how to sell your house quickly in Lakeland
Price your home correctly
Regardless of whether you are in a buyer's or seller's market, the most important tip to sell your home fast is to price it correctly, right from the start. If you need help, contact a local real estate agent and ask for a complimentary Comparative Marketing Analysis, more commonly known as a CMA.
A CMA will give you an idea of the price you should list your home based on the sale of similar homes within the last six months' period that is located in your town or neighborhood.
Don't make the mistake of overpricing your home to test the market. Chances are buyers will pass on seeing your home, and over time you'll have to lower the price considerably more than if you would have priced it correctly from the beginning.
Declutter your house 
Once you have cleaned and repaired your house, spend some time organizing and eliminating the clutter from your home. 
Decluttering your house can do wonders to make your house feel more roomy and comfortable. It will also help your buyers to picture themselves living in your home. That is an important psychological step buyers make before deciding that they want your house.
Pick a top-selling agent 
Picking a top-notch real estate agent is key to selling your house fast. Make sure your agent knows your market well and is an ace of marketing. 
Ask your friends or neighbors for a recommendation of a local real estate agent or visit sites such as toprankedagents.com, zillow.com, or effectiveagents.com to find the best local agents in your market.
Make your home stand out 
A fresh coat of exterior paint, a colorful flower bed at the entrance of the house, a beautifully decorated and furnished patio or new flooring could do wonders to create a memorable impression on your buyers.
Try to think outside of the box and do something that will wow your buyers. 
Go all in on your agent's effort to market your home 
Once you list your house, go all in on your agent's marketing efforts. Make your house available to realtor caravans and open houses. In addition, ask your agent if they could hold a realtor's open house. 
A realtor open house gives other agents that do not work for the same real estate company as your listing agent a chance to preview your house. The listing agent usually schedules a block of time on a weekday, oftentimes providing refreshments or even a light lunch to induce agents to visit the home. 
This can be a very effective marketing technique to make your house stand out front and center in the minds of agents that work in your market. 
Make your house easy to show
Whenever possible, don't restrict access to your house. You must make a conscious effort to accommodate showings on weekends, evenings, and yes, even during holidays and last-minute showings if you really want to sell your house fast. 
You never know which buyer will make you an acceptable offer. So keep in mind that the customer you turn away because it is a last-minute showing or too late in the evening could be the perfect buyer for your house. 
Stay out of the buyer's way
It's best if you leave the house whenever there is a showing or an open house. Your presence in the house will prevent the buyers from freely inspecting your house and expressing their opinions and doubts about the property among themselves and with their realtor. 
Unless the buyers can thoroughly and comfortably view the house, overcome any doubts, and visualize themselves living in the home, it will be hard for them to make a decision to buy a home. 
Put off showing your house
This may sound like the opposite of what you should do if you want to sell your house faster. But it actually is a very smart marketing technique.
When you list your home, ask your agent to hold off all showings for a week or two. This will give all current home buyers a chance to learn about the availability of your home. Then schedule all the showings on the same day so that buyers run into each other.
This will do wonders in creating competition among buyers for your house and ultimately increase the offer amount on your house and help you sell your house faster.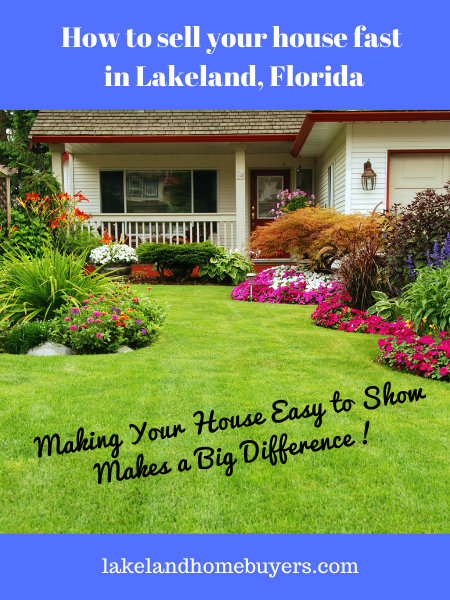 Offer something extra 
Another way to attract more attention is to offer something extra. You could offer partial owner financing, install a rider on your for sale sign indicating that a buyer's home warranty is included in the sale, or offer to pay part of the buyer's closing costs. 
A pro tip is to offer a higher real estate commission or, better still, a bonus to the selling agent at closing. After all, real estate agents work on commissions. A financial incentive will entice agents to steer buyers to your home and increase the overall buyer traffic to your house. 
There is another way to sell your house fast in Lakeland, Florida… 
If you don't have the time or desire to follow the tips we recommended and still want to sell your home quickly, call Your Company Name. We are local professional house buyers.
We buy houses for cash throughout the Lakeland Area regardless of the home's condition or your personal situation. And we can close in as fast as 7 days. 
If you want an easy, secure, and hassle-free sale without the need to fix, stage, and market your home, call us at 863-372-8937 or fill out the online form below and sell your home fast!
By selling to investors like us, you'll also avoid the worries of buyer's mortgage approval, stringent bank appraisals, troublesome home inspections, and expensive real estate commissions. 
Call Lakeland Home Buyers today at 863-372-8937!
Look at this infographic for a quick visual overview of the strategies to sell your house fast in Lakeland, Florida.

More Tips, and Resources to Help You Sell Your House Fast in Lakeland, Florida